Holding your key chains between your fingers, always sharing your location with friends and fake calling while you're walking alone in the streets. For most women this sounds like normal. According to an European wide survey done by the FRA, one in three women has experienced physical or sexual violence and 55% has been through one or more forms of sexual harassment. Lately, a lot of stories of sexual violence in Brussels were uncovered.
The Instagram account @balance_ton_bar, which means 'Expose your bar' has caused an avalanche of new, but also old stories from women that have experienced sexual violence/harassment in Brussels. On this page alone, there are 60 testimonies from women all over Brussels. This caused a movement of feminist organizations and collectives. The trigger for a Women's March on the 14th of October is a bartender at two student cafes who allegedly drugged and raped several women. This march attracted 1300 women and another demonstration 400 participants. Those demonstrations were organized by collectives that advocate for women.
On the 12th of November, those organizations joined forces and organized a boycott of nightclubs and bars, called 'Nightlife Blackout'. Anna Toumazoff is part of one of the collectives who organized this boycott. 'We are doing those boycotts and demonstrations because we want to show people that there is a big problem going on. Not just here in Brussels, but also in the UK, France and Switzerland. It is a scream of angriness. Please listen to us. Brussels is a party city; parties are a very important piece of the culture here. The most important thing is that we need to be safe while partying. At this moment, that is not the case.'
On the 12th of November, there was a boycott of the nightclubs and bars.
https://soundcloud.com/user-166034320/audio-demonstration-brussels-mixdown?si=e0e54ed1d8a845eba30187bc74ae201f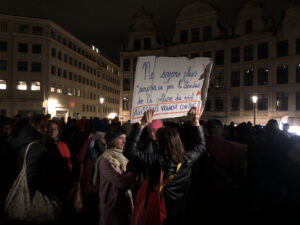 'Let us not be surprised anymore by the rape culture, let's really act against it'
For women to feel safe again, there needs to be a solution for the problem. A part of the solution is the education of people concerning the nightlife. Sexism Free Night is a cooperation providing trainings about preventing and responding to sexualized violence in the nightlife. This past month, they gave three trainings to bartenders, owners, organizers and managers. In total, there were 50 spots, but over 100 applicants. 'This shows that we are living in a time where gender equality matters. Especially for generation Z, because they are going out now. I trained some new openings in Porto and they were strongly committed to gender equality and have the staff ready how they can respond to sexual violence and harassment.' Says to Cristiana Vale Pires, coordinator and researcher at Sexism Free Night. Pires sees this project is a tool for transition. Something to make the transition quicker and smoother. But to solve the whole problem, a lot of things need to be done.
Another part of the solution lies with politics. The Belgian government is working on a national action plan to combat all forms of gender-based violence. An emergency meeting has already taken place between the cabinets of Minister of Justice Vincent Van Quickenborne, Minister of the Interior Annelies Verlinden and State Secretary for Gender Equality Sarah Schlitz. But this isn't enough says Victoria a member of UFIA Bruxelles. 'Politicians also need to take action; we think that they are not doing enough. So, with the demonstrations and boycotts we hope to catch their attention even more.' UFIA Bruxelles stands for Union Féministe Inclusive Autogérée. This means 'Self-Managed Inclusive Feminist Union'. They are a collective that stands up for women.