Full crowds are back at football matches but what will  be the result?
Niels van der Schaft, a lifelong FC Utrecht supporter stands beside the teams bus watching on with pride as the players enter the stadium : "FC Utrecht has been my life for 25 years, this is my 26th season with a season ticket and I attend every game, so obviously when fans weren't allowed to go to stadiums it was a really challenging time for me when I couldn't get to games".
The Dutch government has announced that Football stadiums will be able to return to full capacities from the 25th of September, with all supporters required to be double vaccinated or have proof of a negative test. The news of this will be a relief to supporters who have had limited access to the clubs they support, since the start of the pandemic.
This news will impact people around Holland in different ways, with two key factors being the effect this will have on corona cases and the positive mental health of supporters around the country.
"My week usually builds up to going to see FC Utrecht on a Saturday night or whenever they are playing, so I felt very lost without it".
Having a routine is proven to have a positive mental health impact. For many a trip to the football is an essential highlight of their week. It gives supporters a break from their everyday lives and work, giving them some escapism for 90 minutes.
The pandemic resulted in many people struggling with mental health issues such as anxiety, depression, and loneliness. The NL Times reported that Holland hit an all-time low point with mental health in the first half of 2021 with around 15% of people aged over 12 struggling in some way.
Fans were excited to get back to full capacity stadiums, an experience that they have not had for well over a year and a half. Niels explained how it has been for fans since they have been back:
"The atmosphere has been amazing in these past two games after covid despite the stadium not being at full capacity yet. It is as if everyone appreciates being back in the stadium more".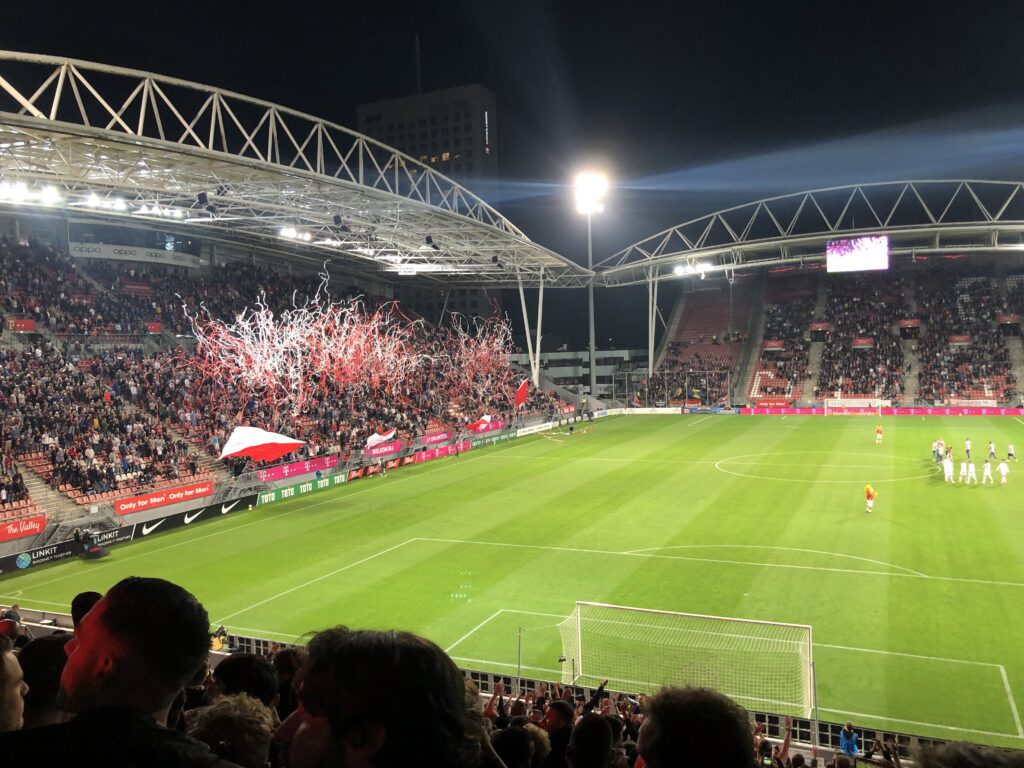 "We (FC Utrecht) played Feyenoord in one of our first games back and we ended up winning 3-1. It was such a great day as it usually is playing one of the big two teams (the other being Ajax), but to be back in the stadium was very special".
Many people are understandably concerned about the easing of restrictions and what impact this will have on the number of covid cases. Harald Wychgel from the press office of the RIVM said people who are nervous about a return to full crowds shouldn't be worried:
"The findings of the RIVM clearly show that the majority of cases are spread by transmission between households. There has been no corelation between the staggered return of fans to stadiums and an increase of covid numbers. Sporting events are responsible for a very low percentage of covid cases".
Full capacity stadiums is just like any other easing of covid restriction in that the impact on the number of cases is unknown but it is an essential step in getting people back to reality.
Wychgel is optimistic that this will be a permanent return for fans: "We are hoping that this will be stadiums back for good, the only thing that would likely close them again is a full blown third wave".
Football is a vital part of Dutch culture, and the return of full capacity football stadiums is something that is very exciting, but of course should be approached with caution just like anything in this new world that we live in.