The 16th of September marks the start of the European Mobility Week. In recent years this week has become important to local governments and organizations throughout Europe, and even beyond, to put sustainable mobility on the map. How can the aim of this week stick around all year?
Carbon-neutral continent
The European Mobility Week is based on a partnership between the European Coordination which consists of three networks of local authorities plus mobility and communication experts, the National coordinators and the European Commission. This year's theme is 'Zero-emission mobility for all'. It puts a spotlight on the importance of accessibility to zero-emission transport and promotes an inclusive framework involving everyone, as stated on their website. It encourages people and local authorities across Europe to take steps to achieve the long-term goal of a carbon-neutral continent. This reflects the ambition of a carbon-neutral continent by 2050, as laid out by President of the European Commission Ursula von der Leyen, when presenting the European Green Deal.
This year marks the 19th edition of the week. However, this edition is an unusual one due to COVID-19. In light of the pandemic, measures will be taken into account when organizing activities. That doesn't stop local authorities from joining this week: 2861 towns and cities have signed up and 846 Mobility Actions have been registered in total. Some non-EU countries have signed up too, as registration of awareness-raising actions promoting sustainable urban mobility is open to everyone. Activities range from workshops on road safety in Essen (Germany), guided walking tours in Lahti (Finland), a film screening on sustainable mobility in Girona (Spain), test drives of electric scooters in Sofia (Bulgaria) and bicycle trips to local monuments in Gdańsk (Poland). The activities provide an opportunity for residents to discover different forms of sustainable mobility and its various benefits.
Safe cycling
Stephanie Fenech is one of the organizers who will be hosting the Mobility Week in her hometown Iż-Żejtun, Malta. The activities mainly involve bicycling, such as bike-learning sessions and historical bike routes. "We don't want to do this for a week only, we want to keep it going." Even though bicycles are not very common in Malta, there has been an increase of people using bikes according to Stephanie.
"We have to start from the grassroots"
"Unfortunately, this goes hand in hand with a lack of safety. People bike around with no proper lights or helmets on." That's why she teaches young people and children how to safely ride a bicycle. "As a youth and community counselor, I believe in the involvement of young people when it comes to sustainability. We have to start from the grassroots." She also thinks that presenting activities in an informal way keeps people motivated. "Reaching out to the community with fun activities can hopefully manage to sustain this new type of mobility for our future."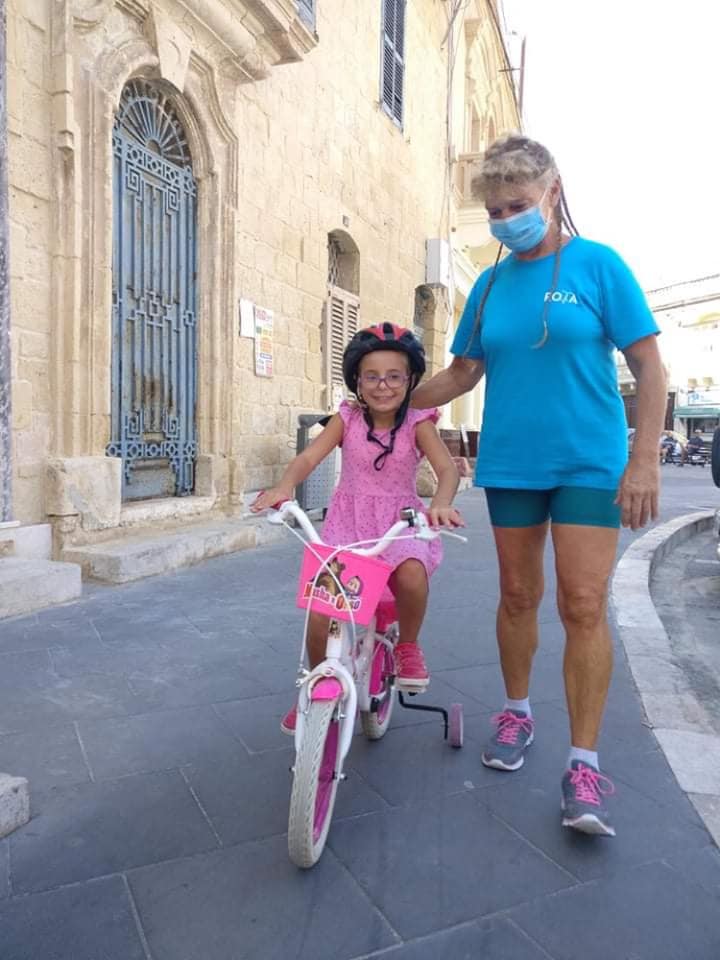 Long-term impact
Juan Caballero is project coordinator of Mobility for Eurocities, the leading network of major European cities. He coordinates the European Mobility Week. "We always find a theme that is flexible enough so every city council can use it to highlight what is important to their agenda. The core mission is to raise awareness which will promote changing behaviour in the general public. Towns and cities have to make it possible to create these changes. The key ingredient is balance: 50% involves communication and 50% infrastructure. A city council can invest a lot of money in building new bike lanes, but if it's not promoted than it's basically useless. It works the other way around too. If you tell people they should cycle more but there isn't any infrastructure for that, people won't do it. Therefore, the two elements are equally important to create a good balance."
"European urban mobility is all about good quality of life"
In the context of the European Mobility Week, three different awards will be presented to local and regional authorities that have achieved excellence in sustainable urban mobility planning. Even though permanent implementation is not mandatory, the aim is to have a long-term impact in the participating cities. "Our recommendation to local city councils is to plan in advance. You know better than anyone else your local context. Europe is a very diverse continent, so there is not a single strategy." One thing that always works, according to him, is the engagement with relevant partners. "Make sure everyone's voice is heard from the very beginning."
Lockdown lessons
"Many local authorities see the corona crisis as a chance to improve, going 'back to better'. That's why we have come up with 10 lessons learnt during lockdown for better urban mobility." Lesson one states that public space is precious. "The corona crisis has made people more aware of how precious our public space is for the quality of life", says Juan. "Cities and towns are in need of solutions for urban challenges such as air pollution, so we hand them the right tools and resources to tackle these challenges. European urban mobility is all about good quality of life. Everything is interconnected after all."