Brussels, the heart of Europe and once upon a time, the heart of communism. In a city where so much happens, one group would like to see more change. In the same place where the EU handles crisis: climate, economic, COVID-19, social rights, the radical left is waiting for a revolution. Three members of VONK – Révolution, the Belgian department of the International Marxist Tendency tell us why a communist revolution is needed, maybe even inevitable.
Erik
Erik Demeester, a socialist revolutionary since his seventeenth works full-time for VONK. He joined in 1979, a couple of years after VONK itself was erected out of protest against the oil-crisis in the early seventies. "It was stories like this from the news that made me see change is necessary," Demeester says. "That was the first big crisis after the Second World War and showed for the first time – well maybe not for socialists, but the greater public – that capitalism ruins the world."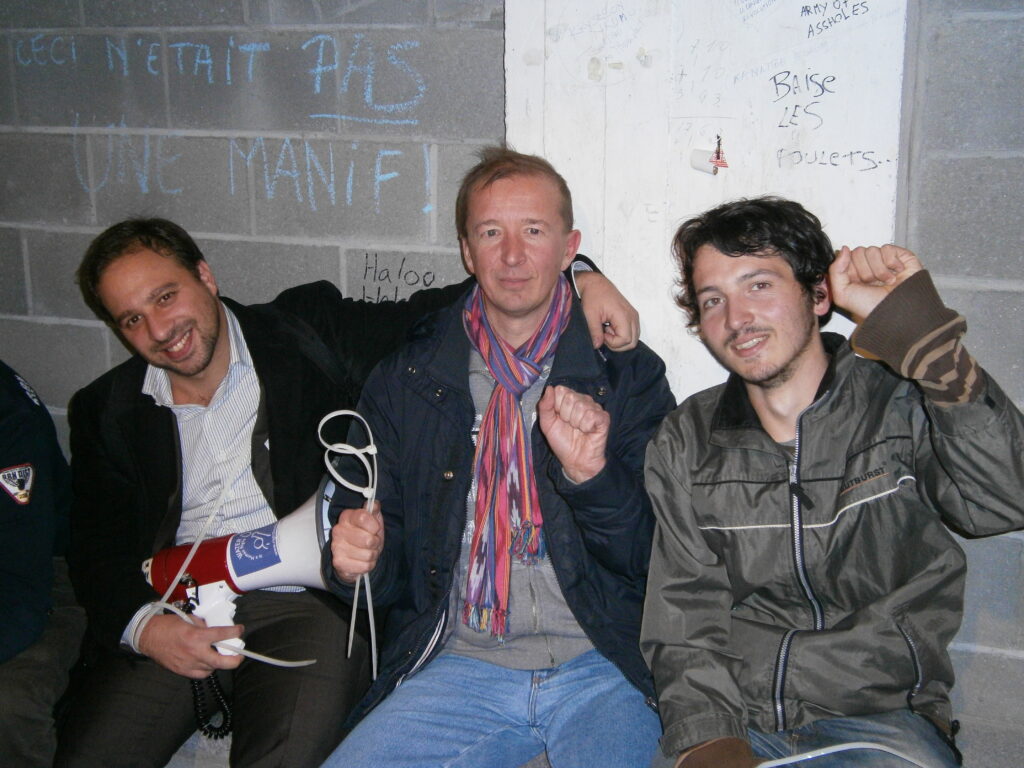 Erik with his comrades in jail, arrested after protesting. Foto courtesy of Erik Demeester.
Socialism wasn't new for Demeester. "My parents were socialists too, but they were good, law-abiding socialists. Not revolutionaries like me." Demeester has spent more than half of his life waiting and fighting for a socialist revolution. "I don't want a violent revolution, although some violence may be unavoidable. But we desperately need a system change: look outside." He refers, on a large scale to the crisis the world is dealing with. But also on a smaller scale the problems in Brussels: the low vaccination statistics and the homelessness.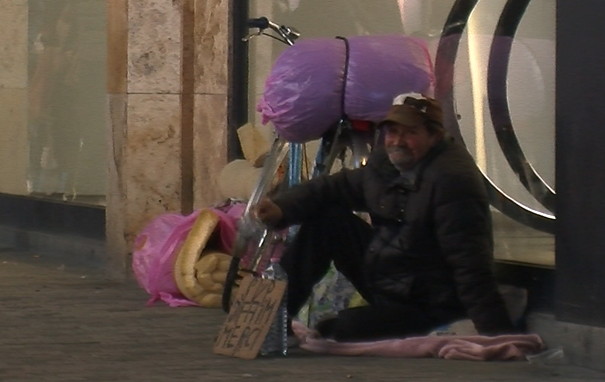 Not an uncommon sight on the streets of Brussels: the hundreds of people sleeping on the street. Foto: Fiep Herinckx
Kyle
Kyle Michiels, a friend and fellow comrade of Demeester also spends a lot of time on VONK. A historian who offers historic perspective on organized discussion days and in videos on the VONK Facebook page. "A lot of the younger members at VONK actually originate from the climate movement, myself included." He believes that the only solution to the climate crisis, is a socialist one. "The last century has proven that capitalism only destroys our planet."
But where he actually radicalised more of his ideas, was as part of a collective that wanted better working circumstances for cyclist deliverers at Deliveroo. It proved to Michiels that working together works a lot better than staying individuals. Unlike Demeester, he is also open to a more violent revolution. "What needs to be done, needs to be done."
Leonard
Leonard*, a twenty-two year old political sciences student, has been sympathetic to socialist ideas since the age of fourteen. Like Demeester's parents, his parents are also socialists. Leonard prefers to call himself communist or revolutionary socialist: "because I believe that the socialist party in Belgium doesn't do enough. They don't have my immediate support."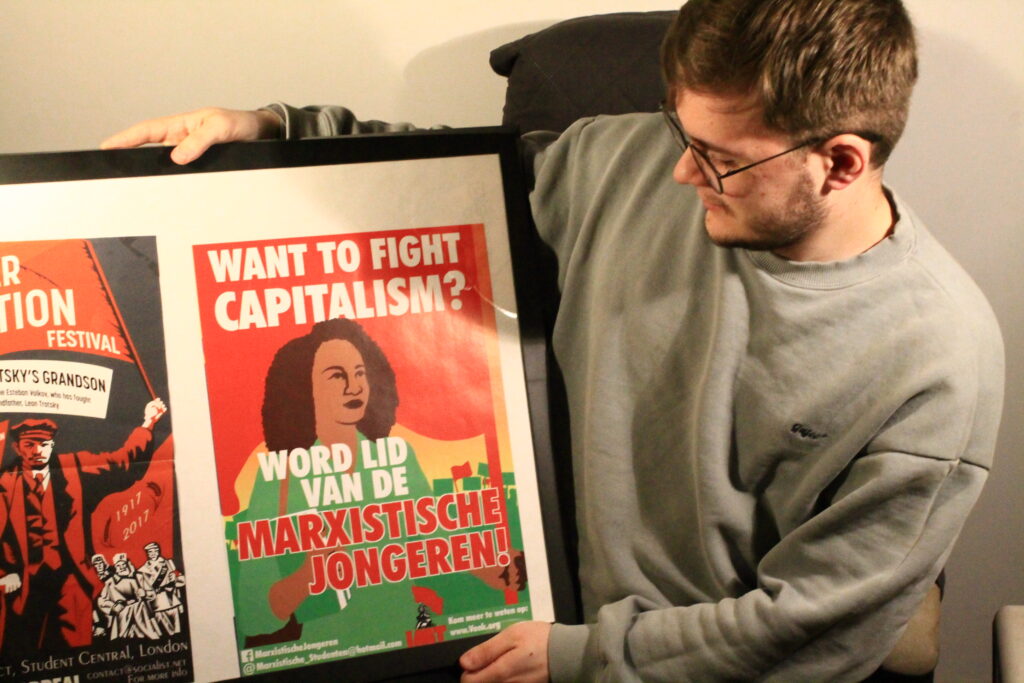 Leonard showing the propaganda he uses to get more people involved in the movement. Foto: Fiep Herinckx.
So who does have his support? "My comrades from all over the world." He refers to when a communist, Amar Fayaz, was taken and tortured by Pakistani police. "But I am not a violent man, I do not believe that a revolution needs to be violent. What we need is numbers and getting people mobilised."
Where is the revolution?
So if people like Demeester, Michiels and Leonard are so dedicated to the cause, why hasn't a revolution happened yet? Historian Dennis Bos, specialised in the socialist labour movement says that at least some of the key ingredients to a revolution are present in our current society.
"We just don't recognize it as necessarily communist. But the housing protests, the Black Lives matter movement, the climate movement, all of these groups demand that basic human rights be respected and that people are equal. Those are, of course, in essence the same ideas a lot of communists or radical socialists have," he explains.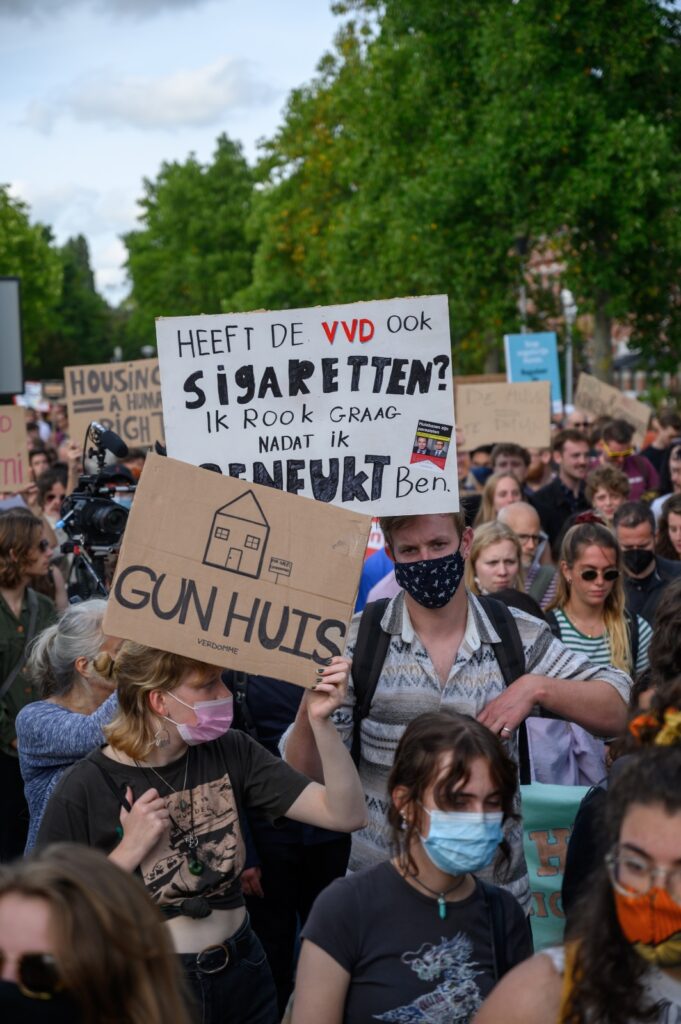 The housing protest across the border, in the Netherlands. The sign reads: "Does the VVD have cigarettes, I like to smoke after I've been fucked." Foto: PKMedia
"A revolution doesn't have to mean a war, it's a big change in little time and we have seen examples of that: the best example would be Russia. Both becoming communist in the beginning of the previous century and shaking off communism at the end of the century. Change doesn't happen in a day."
For more information on the Communist movement, please watch our mini-documentary.
This mini-documentary and article are one of three parts of a series on ideologies in Brussels.