Ayo Awokoya is a female British war journalist who specializes in Africa. What are the biggest threats you can face as a war journalist: flying bullets, violence or kidnapping? Yes, for sure all of these are serious threats but those are not the only threats a female war journalist has to deal with. Awokoya wrote an article for GQ Hype Magazine in 2019 about her experiences as a female war reporter. She described the threat of sexual abuse and assault you can face as a female war journalist. One of the advices she received was to wear a swimsuit underneath her clothes, to act as an additional barrier to buy time in case of sexual assault. Sadly, Awokoya isn't the only female war journalist facing the risk of sexual assault and abuse, she is one of many.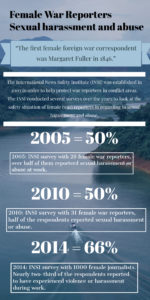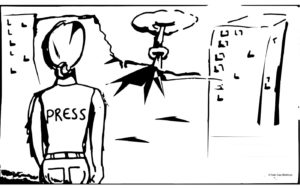 Sexual assault and abuse
The International News and Safety Institute (INSI) conducted the global survey "Women reporting on war" in 2010. For this survey they interviewed thirty-one female war reporters. Half of the women reported that they have been sexually harassed or abused during their work as war reporters. One of the outcomes of this survey was that a high number of women called for self-defense to be made an intrinsic part of the safety training which prepares journalists to work in conflict areas.
Now ten years later, are there any changes in the safety position of female war reporters in regarding to sexual harassment or abuse? And do female war reporters receive a different safety training than their male colleagues? To help answer these questions, correspondent Nan Cao Blokhuis spoke with Peter ter Velde, safety trainer and security coordinator for the NOS foreign news desk. The NOS is one of the partners of the INSI, and is the national news outlet from The Netherlands. When you want to become a war reporter for the NOS it is obligated to follow safety training before going into a conflict area.
Ter Velde has 15 years of experience as a war journalist and went to places like Israel, Palestine, Iraq, Egypt, Lebanon and Afghanistan during his work Ter Velde: "Together with the Dutch Royal Land Force we give a three-day training course twice a year where we train war journalists to prepare for their work in conflict areas. During the training we prepare them for all sorts of situations they can come across. The first day we focus on preparation on the travel, how to behave once arrived at your destination, and how to behave in the assigned conflict area. On the second and the third day we do theory and practice with simulations of real time experiences. Think about stressful situations due to roadblocks, booby-traps and hostage."
There is no self-defense training for female war reporters against sexual harassment or abuse in this course. Ter Velde: "We only have three days of training. Self-defense isn't something you can easily learn in one afternoon. Plus, a self-defense class isn't going to help you when you're surrounded by bad men who want something from you. But we do give special attention to female war reporters focused on sexual harassment and abuse. For this part we have a female specialist trainer who has experience in the field herself and who can help women prepare for cautious situations." Ter Velde states that the biggest threat for sexual harassment or abuse actually lays within the personal environment of the female war reporter. Ter Velde: "It's often the personal driver, the translator or the 'local guy' that guides you around, that women need to be cautious about. As a reporter you depend on these people. You can think you're building a friendship connection, but they can interpret it in a different way. Especially when you're in Muslim countries. They have different cultures and are not used to women going about their life alone. One of the big rules we give to female war reporters going into Muslim countries is to always say that you're married. Make sure it says it on your Facebook page as well and that you have a picture with your 'husband'. It doesn't matter if it is your brother in the picture instead or an actual husband, just make sure it's covered. This part of the preparation is called your digital safety. Make sure you know exactly what people can find about you on the internet."
Did sexual harassment and abuse under female war reporters increase or decrease over the years? Ter Velde: "I don't think there has been any change to be honest, I feel sexual intimidation and abuse is something that didn't get worse or better over the years. But I can't say this with certainty because there are no hard numbers at the moment."