Sundance Film Festival is the biggest American film festival for independent film. Directors like Kevin Smith and Quentin Tarantino had their breakthrough at Sundance.
Director László Csuja (37) tells in SZELÍD, Gentle in English, the story of Edina, a female bodybuilder, played by Eszter Csonka. In real life Eszter is also a professional bodybuilder: "For my movie I never use professional actors as main characters. I like a reality in my movies and want my main character to be in this reality." SZELÍD will be László (37) second future length film: "It is the most brave and ambitious movie of my life."
Two weeks before the premiere of SZELÍD, me and Laszlo spoke via Skype. He just got the notion that Sundance would be totally online; again: "I'm very sad. You know I believe in cinema; the problem is that watching a movie at home is a totally different state of mind, everything is moving in the world, while in cinema everything is silent accept the movie." He would've preferred that Sundance Film Festival had delayed the screenings, just like Festival de Cannes did last year.
László Csuja was the oldest of six in his family. His love for directing started because he and his brothers and sisters performed little theater in the house: "Because I was the oldest, I was the director, I really liked theater. Around the same time his true love for movies started: "We didn't have a television in our house, so I didn't see a lot of moving images. What I would do is, I would go around the neighborhood and watch the movies that they were watching. But this was nothing like going to the cinema for the first time. I still remember seeing Vili, a veréb (1989) – A Hungarian cartoon, the English adaptation is called Willy the Sparrow – After the movie I wondered around the neighborhood all day, just silent."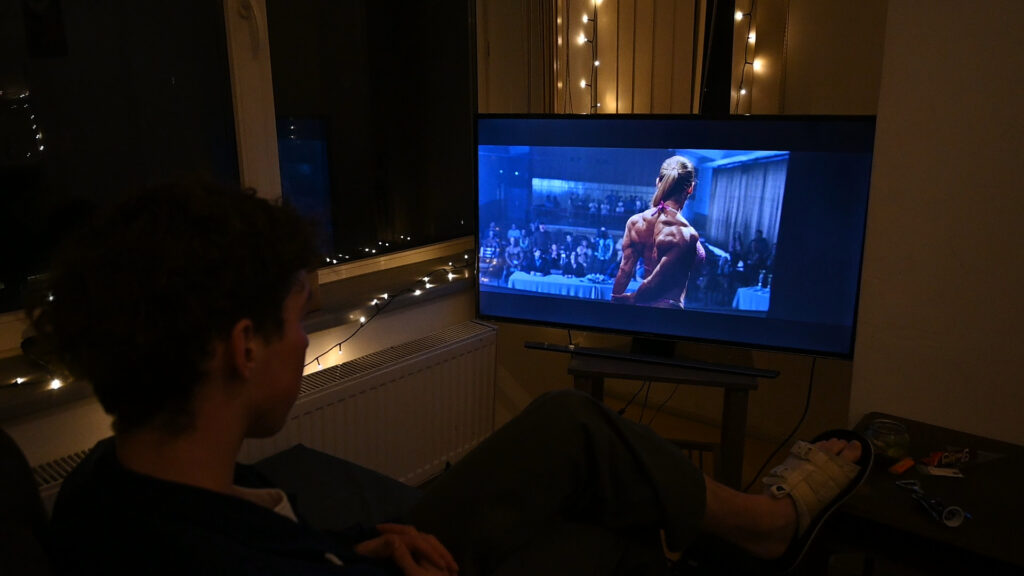 Watching SZELÍD premiere at Sundance Film Festival – Photo: Stefan Dwarswaard
"The more time I spent in this world, the more I realize that there is nothing different about female bodybuilders. They want to be loved, they want to express themselves, they seek self-fulfillment. They shape their bodies like a sculptor - it is their work, their art, just like this movie is ours."

Quote from the directors
The interest in bodybuilding started when László met Anna Nemes in 2016: "One day, she was walking and, on the street, she found the book of Arnold Schwarzenegger. She soon found out that the female bodybuilders are more interesting because it raises more questions. It is more unconventional."
"Just like in Bodybuilding, Eszter wants to be the best actress."

László Csuja
While Edina builds her body up, she ruins it at the same time because of the drugs. The two sides of Edina are implemented through bodybuilding and escorting. A fictional scenario but based on the reality, that László and Anna found in their research: "we found out that escorting yourself as bodybuilder was not rare. The body enhancing medication is expensive and with training all day most bodybuilders don't have time for a normal job." While SZELÍD is not a personal story, László sees a lot of his relationship with his ex and co-director Anna Nemes back in the movie: "Somehow, we articulated our own situation."
László is looking forward to the premiere at Sundance: "I saw the movie 80 times. I counted. I can't feel anything anymore, so I'm waiting to see it with an audience and see their reactions. It's already a great success, because it is the first Hungarian feature film to be premiered at Sundance. So I'm proud and honored."