Two years ago, Charlotte Offermann, a former student at the Johannes-Gutenberg University in Mainz, stood in front of an unpacked shop packed with two jute bags, a lot of cans, and glasses. "For me, it is important to try to be as plastic-free as possible. Where I can control if I want plastic or not." Today it looks different. Charlotte is no longer on the road with the cans and jars, but at home on the couch, the grocery shopping is done – at the push of a button on the internet. Online shopping differently.
The meaning of zero waste
A zero waste shop is characterized by the fact that it tries to produce zero waste and zero rubbish as far as possible. It can be translated into "no waste". According to Shabnam Beus, press contact of Unverpackt e.V., "the pursuit of zero waste forms the core business of zero-waste shops or unpacked shops." Zero waste shops are supermarkets that sell their food, cosmetics, toiletries, household products, and accessories without any packaging at all. They are usually smaller grocery shops that have made it their goal to reduce packaging waste as much as possible. Shabnam Beus stated, "The management of the zero waste shops is value-oriented. Profit maximization is not at the center of their actions."
If you look at who zero waste shops get their products from, you have to differentiate between different products. Many zero waste shops advertise that they are supplied regionally as far as possible, but it is not uncommon for them to be supplied from all over Germany and/ or Europe. The difference to a conventional supermarket is that many zero waste shops make sure to offer only organic goods and also use certified labels for soaps for instance.
The Problem with plastic. 
If you try to avoid plastic in the conventional supermarket, you quickly realize it's not that easy. From packaged vegetables and nuts to liquid soap, toothbrushes, and toothpaste, plastic is everywhere. According to the Nature Conservation Union of Germany (in german Naturschutzbund Deutschland) in short NABU, nearly 400 million tonnes of plastic are produced today. In 2018, Germany's plastic packaging waste per capita exceeded the European average of 39 kilograms, according to Statista. For Absalom Aufdemkampe, CEO of "Kornkiste", a zero-waste online shop, the problem is not plastic per se, as long as it is used sensibly and can be recycled. For him, the problem lies in the way it is handled: "The packaging is made of composite materials, such as Tetrapack, where we have glued cardboard with aluminum and plastics in such a way that no recycler can do anything with it."
Zero Waste shops and plastic
Even a zero waste shop, whether stationary or online, can't do without plastic, Michael Sixl, Co-Founder and CEO of the online zero waste shop "GerneOhne", told me. "If you run the whole thing on a small scale, you often get the products delivered in 25-kilo bags. Some of it comes in reusable buckets, some in a paper, and some items, like certain nuts, don't usually come without plastic." The advantage is that it is one big plastic package instead of many small plastic packages that have a small amount in them."Despite all efforts, it is usually not possible to avoid plastic completely. Overseas products such as dried fruits or nuts in particular have to be protected from pests and other environmental influences such as wetness on their sometimes long journey to Germany. This is not possible without plastic," says Shabnam Beus.
The number of zero-waste shops
Zero waste shops are increasing more and more in Germany. According to NABU, there are over 230 stationary zero waste shops in Germany and it is still growing. More and more zero-waste shops are being offered on the internet. For Absalom Aufdemkampe, the idea of a zero-waste online shop came more out of necessity. The need to not have a zero waste shop in the immediate vicinity, but still the desire to buy products without causing unnecessary plastic waste. The result was an online shop that makes it possible to buy products without having direct access to a zero-waste shop. "Gerne Ohne" also tries to reach more people through the online shop and thus to offer the whole of Germany the offer of plastic-free shopping.
The zero-waste niche market
Even though more and more shops are opening, zero-waste shops are still part of a niche market, according to an article from Laura Therese Heinl, Dimitar Zvezdov, Jessica Mazurek, and Christina Fischer. Michael Sixl has the same opinion "We are currently very much in the niche. If you look at the adoption curve, our customer group is still at the very beginning among the early adaptors. And we want to try to bring the early majority customer group forward and thus pull the late majorities towards zero waste in the next few years. Looking at the total turnover of food in Germany, we see that zero-waste shops are still in their infancy, according to Michael Sixl.
The technology adoption life cycle/ adoption curve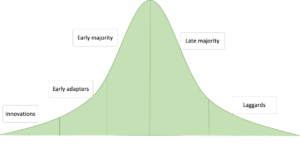 One Klick and ordered
Michael Sixl sees both advantages and disadvantages in conventional zero waste shops. The community idea is greater in a conventional shop and in a way it is also more sustainable because there are no transport costs. At the same time, however, such a purchase also involves time and effort, if you look at the weighing. "For me, the big advantage of online is that I don't have to lug my shopping all over town, and driving by car would also miss the point of being as sustainable as possible. Time-saving is also important. I don't always have time to deal with all the weighing and online is an equally good alternative for me especially since I moved out of town." says Charlotte.
The purchasers
According to the shops' information, people in their late twenties and older tend to buy in zero waste shops but here it is still individual. There are fewer older people online who take advantage of the offer. The supermarket chains are also jumping on the bandwagon of packaging-free shopping more and more and offer a packaging-free alternative to their conventional range. Anyone who thinks that zero waste shopping is always associated with higher costs is mistaken, because here it depends on the product and the quality.