The television tower at Alexanderplatz looms over the city. Night or day – there's always something going on in Berlin, Europe's most populated city and an urban hotspot. Wheels skate over the asphalt, the sound of boards slide over park benches and railings. Triumphant exclamations or crushing cries. Try, get up and keep going is the motto of most skaters. The sounds of skating follow you wherever you go and merge into the buzzing sound of the city. Since the 90s at the latest, skaters have become an indispensable part of Berlin, the unspoken skateboarding capital.
By Maarten Lenaerts and Paula Longin
Skateboarding has been experiencing a boom for a few years already and of course the movement didn't stop in front of the gates of Berlin. While it has been replaced by longboards, pennyboards and stunt scooters in the meantime, it is more popular than ever and has even been an Olympic discipline since 2020. The Corona pandemic also brought more people to the sport: while gyms were closed again and again, skateboarding offered an alternative for which, apart from stamina, courage and patience, all you need is a board and a piece of asphalt.
The skate scene in Berlin is as lively and distinctive as the city itself. With numerous skateparks and above all an incredible range of skate possibilities, Berlin is one of the European and even international hotspots for skaters. It ensures that you can find the whole world in one city, even in one skatepark. Skatepark designer and former professional skateboarder Veith Kilberth explains Berlins importance in the skate scene: "It is indisputable: Berlin is the skateboarding capital of Germany, maybe even Europe, the cultural exchange in relation to skateboarding is simply much more present than in other European cities." As a skater you can experience Berlin through two different lenses. You can either focus on the skateparks, where the principle: free, open and outside applies, or you can look at what the city has to offer, the streets.
Skatepark Boom
Berlin's skateparks are the right places for fun, jumps and scratches. Here one can slide down ramps, slither over iron bars and impress spectators with tricks. Most skateparks in Germany date back 30 years. "The vast majority of skateparks that came into being at the end of the 90s, beginning of the 2000s were a result of a skateboard and inline boom in Germany," Veith Kilberth explains. The growing interest in skateboarding, whether as a lifestyle or as a sport, opened up the era of catalogue skateparks. Large concrete areas with hardly any inclusion of the user groups and their needs, emerged to meet this demand. Despite the boom in Germany, Kilberth believes it is definitely time for a renovation or renewal of these parks. None of the old parks contains the right ingredients for creating a vibrant skate culture in the city. "A good skatepark is relative but is always built creatively and has individual elements that stand on their own but also create a whole together." After a successful career as a skater, Kilberth decided to put his knowledge to good use and decided to become a skatepark designer. "We saw that new skateparks were being built everywhere now. In our opinion, they were, to put it mildly, a bit below their potential. So we thought, 'Okay, we have to do it ourselves now!'"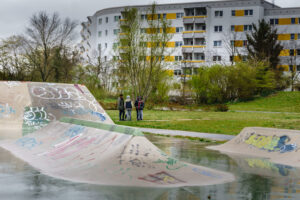 In Berlin, there is no fixed budget for the construction of places for skateboarders, BMX or scooter riders. However, there are placeholder areas in urban planning that can be suitable as skate parks, but these can vary greatly from municipality to municipality. Generally, it is safe to say: if someone wants a skate park, they have to push for it. These movements are created bottom-up through initiatives. "For the past five to ten years, a skatepark planning process has always been preceded by a skatepark initiative. Basically, no skatepark is built nowadays without involving local user groups," Veith Kilberth explains the current way new skateparks emerge in Berlin.
Skateparks not only meet the need for a sports facility in the city: they are a place to eliminate the conflict of noise and complaints from residents and create a new social space where old and young meet. In his book, published in 2021, Kilberth takes up these social aspects, because public skateparks should be oriented towards the common good and embed the emerging social structures in the design. In the best case, a skatepark can be a safe place where integration and intergenerationality are lived by coming together through an informal sport.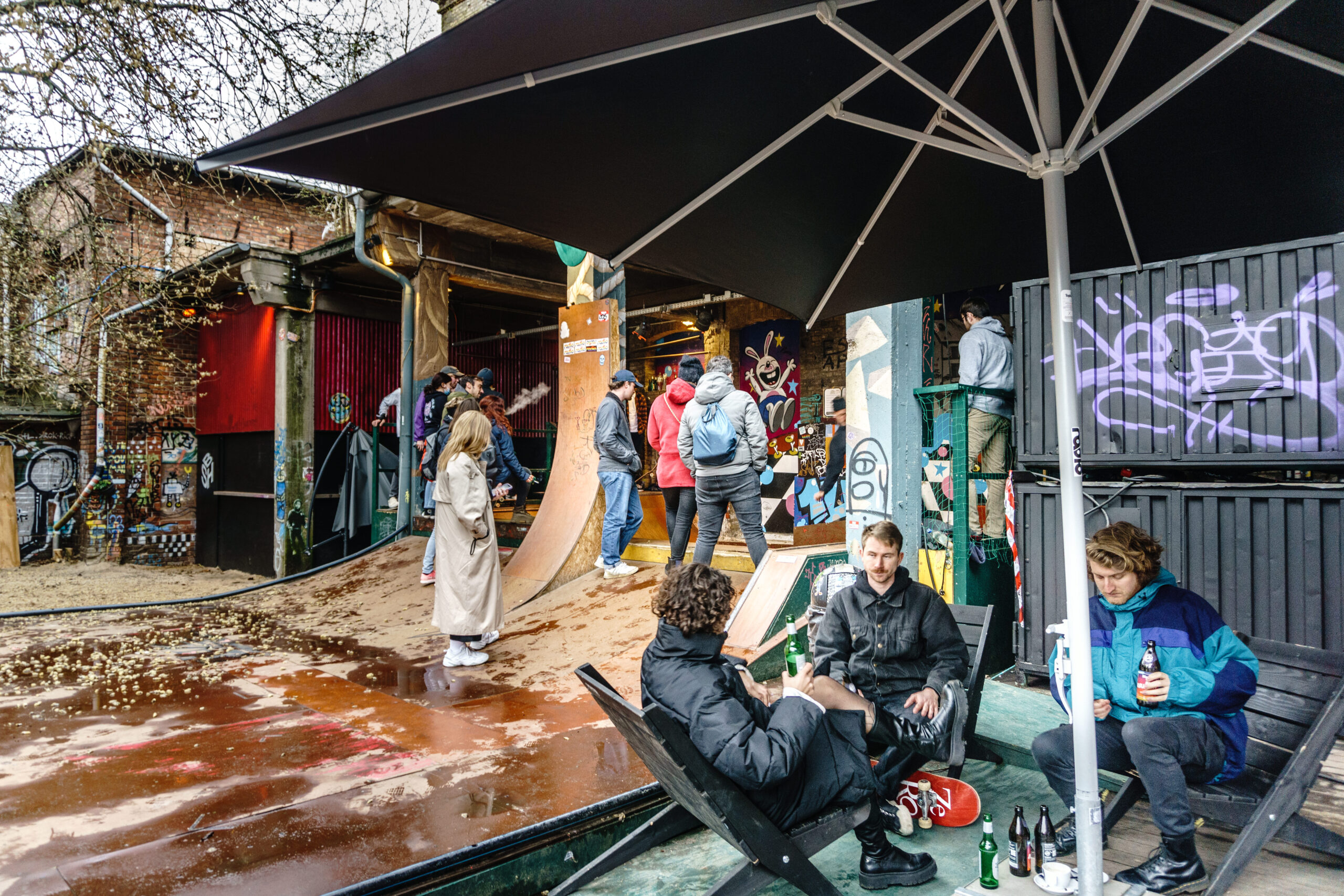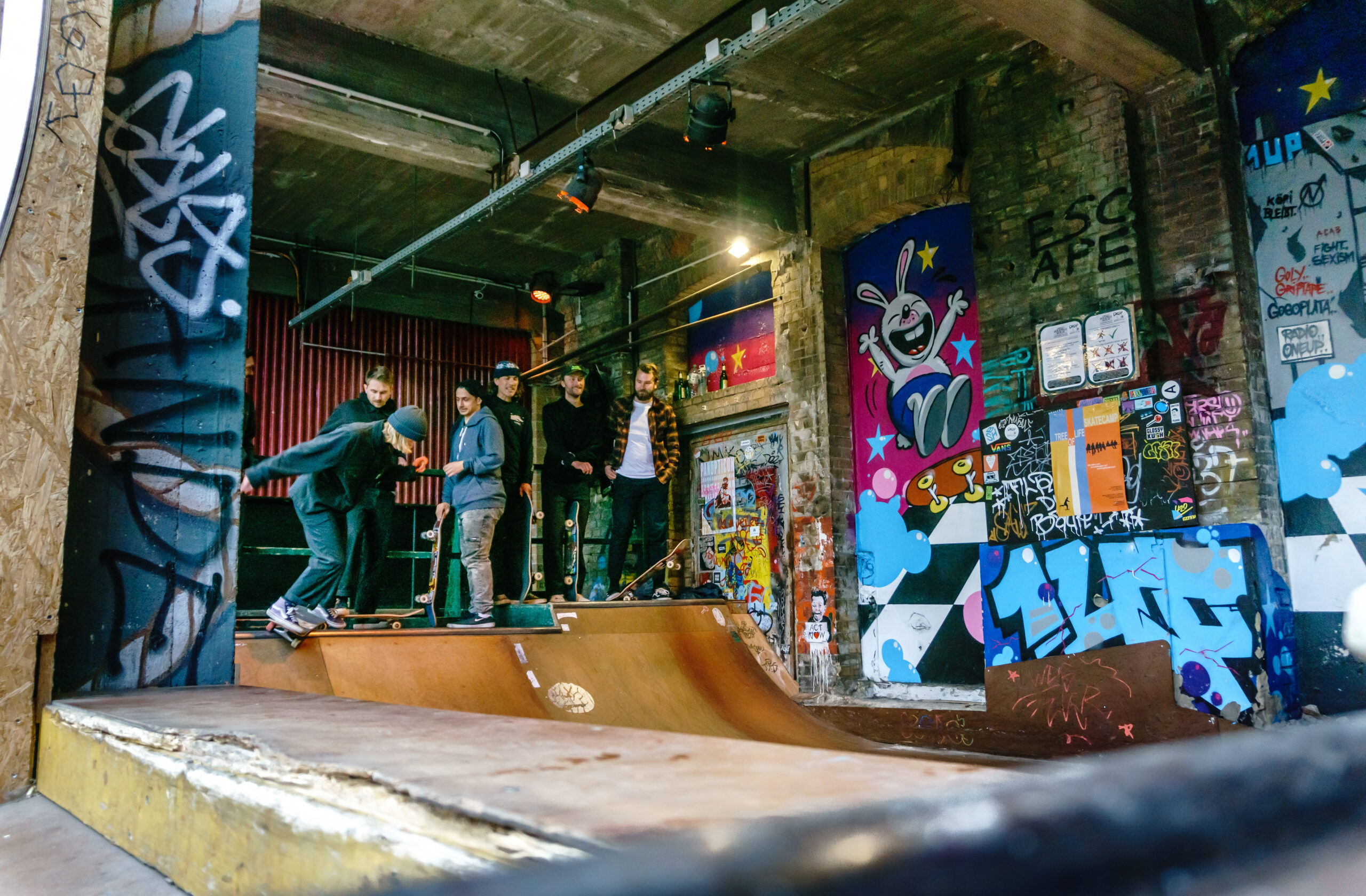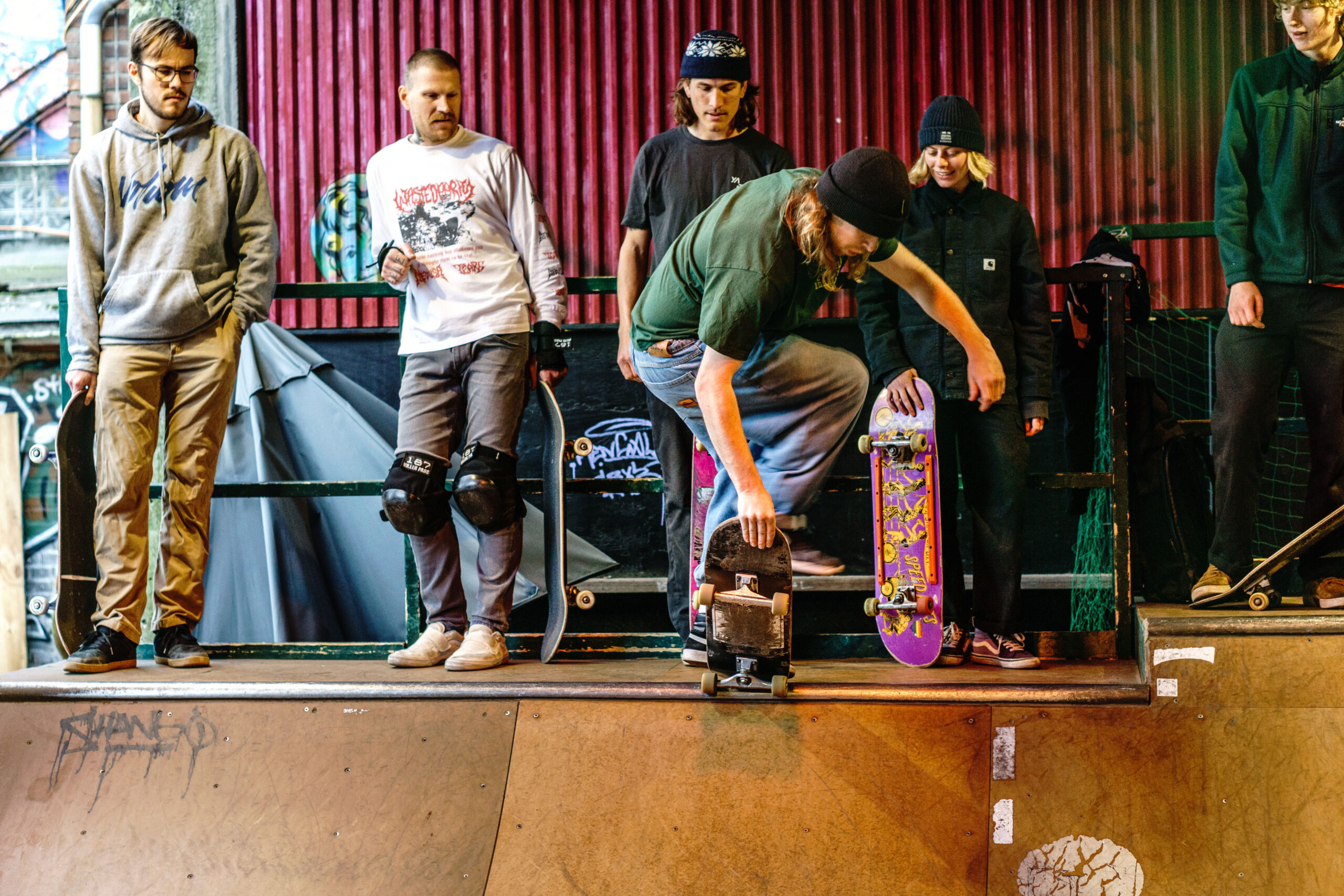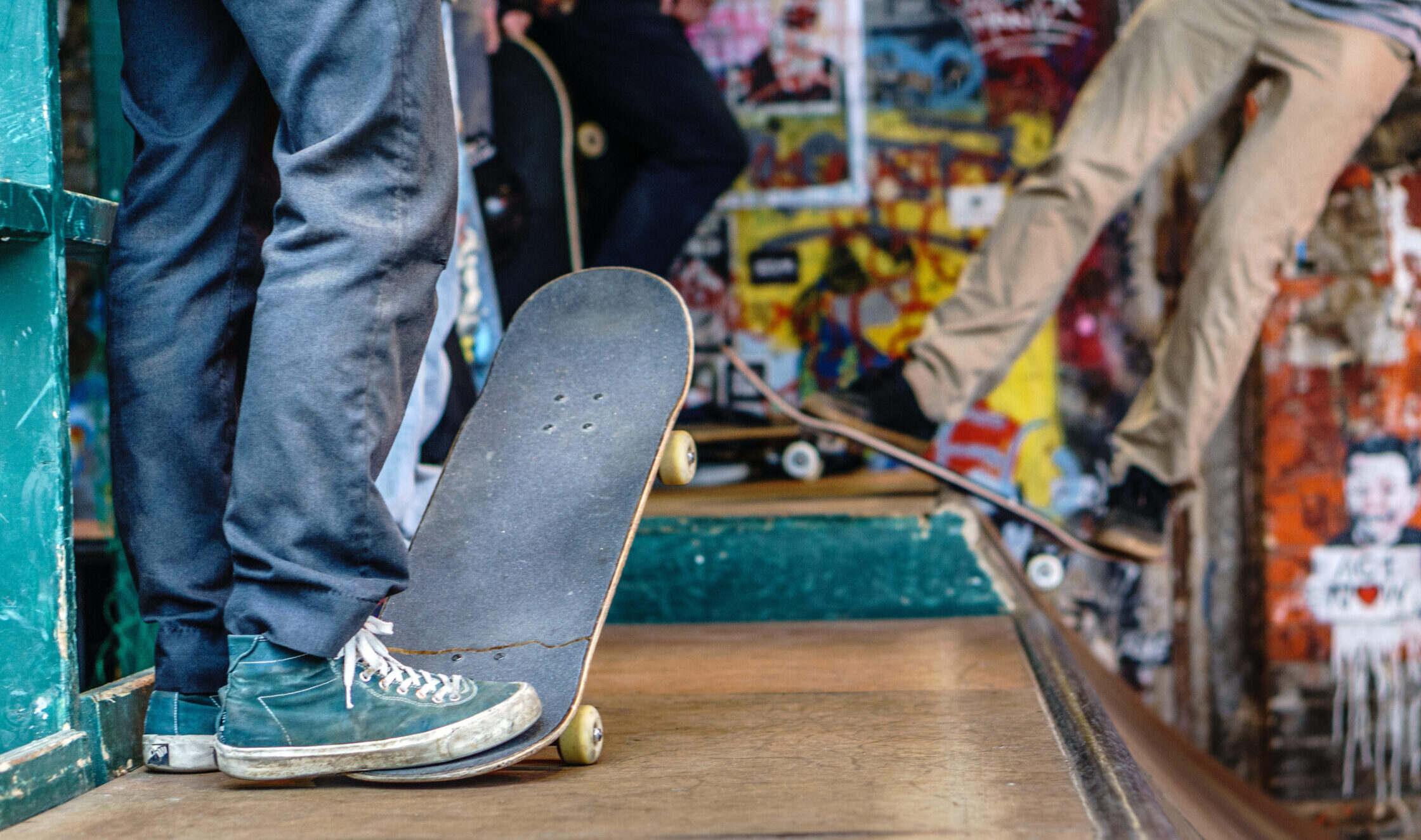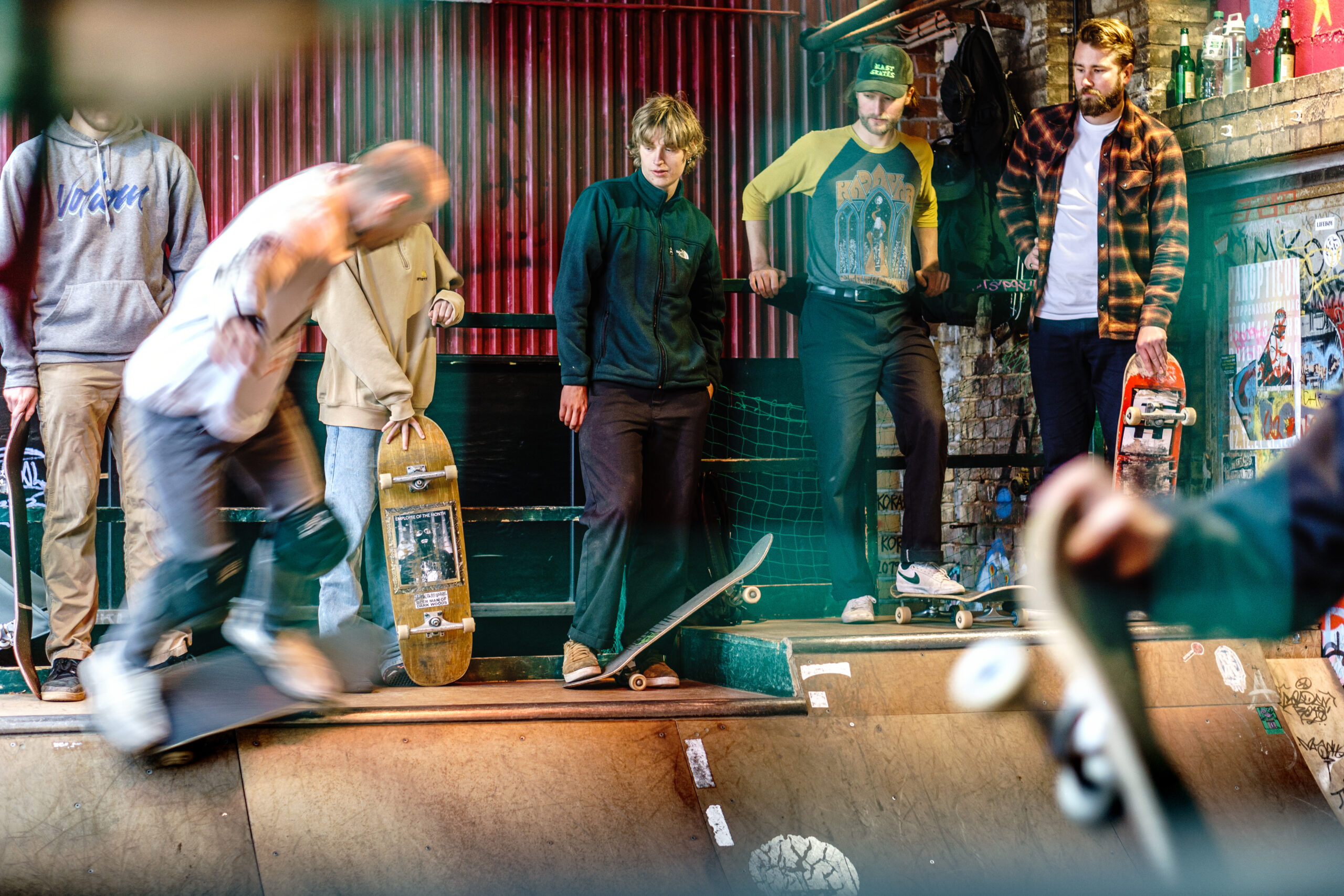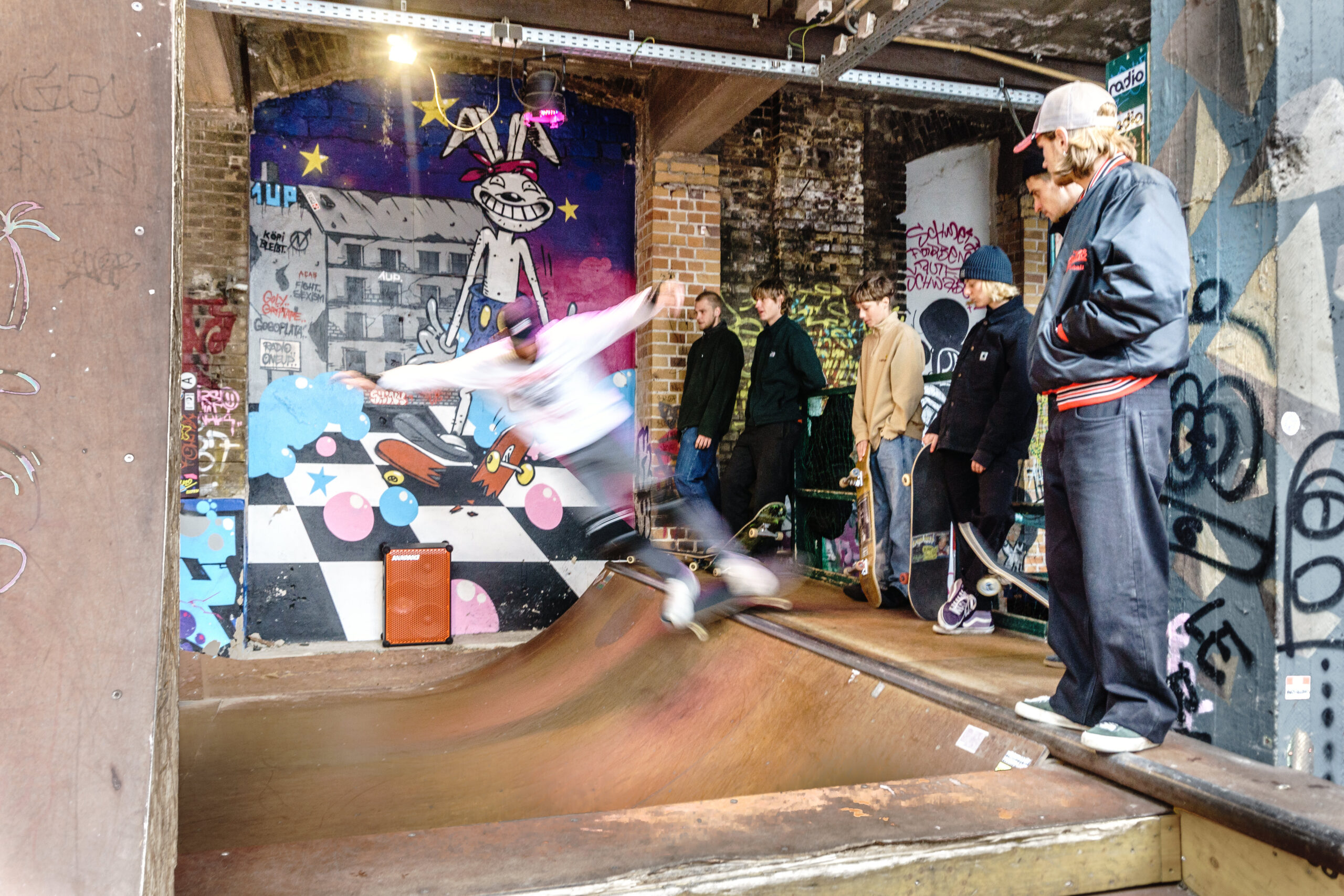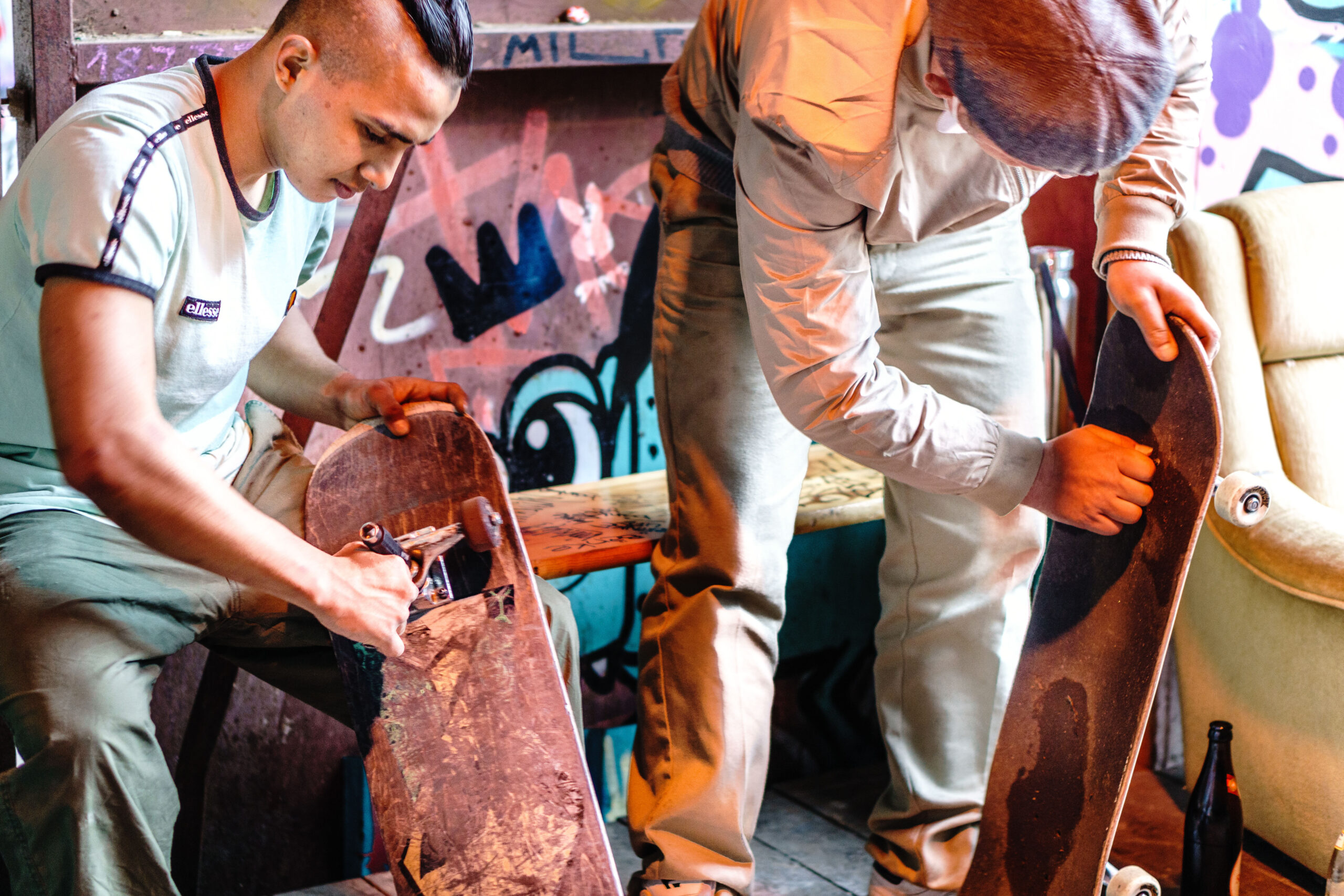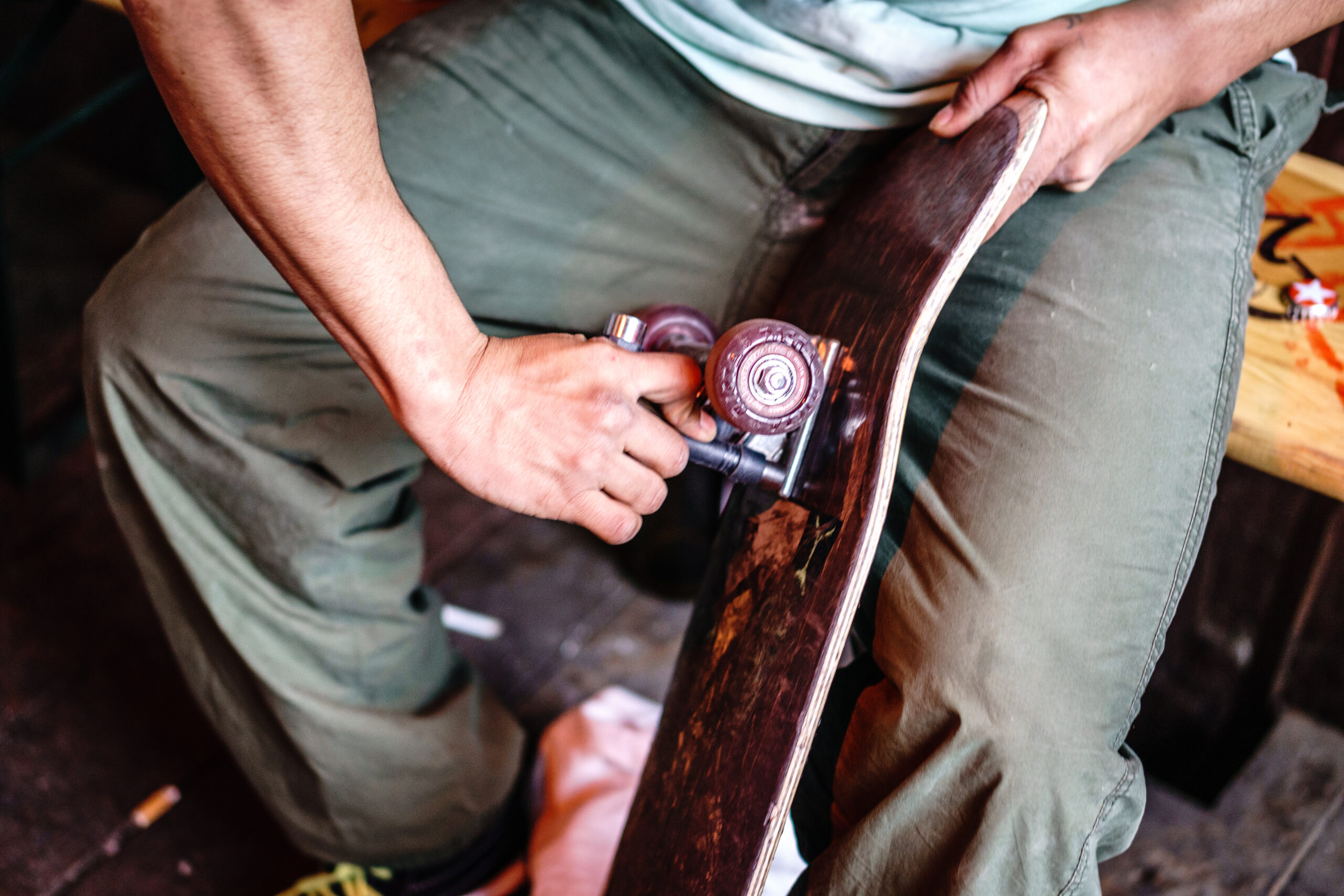 A city as a Skate Spot
As diverse, colourful and creative as the urban mecca of Berlin is its skate scene. When skating you can find something different and interesting behind every corner. "Berlin is totally awesome in terms of versatility and creativity. There are some monumental skate spots in Berlin that are very well known in the international skate community," Veith Kilberth exlpains. Because so-called skate spots can be anywhere where skaters can and want to skate – regardless of whether they are allowed to or not. The latter approach to skating only really took off after the fall of the Wall in 1989. The unification created new buildings, new squares and thus new skate spots. "For the first time, skateboarding was largely about exploring the city. What is possible in the city, which stair railings can be skated on, which stairs can be jumped off, etc," the now skatepark designer elaborates. For Jan Kliewer, second chairman of the 1st Berlin Skateboard Club and German skateboarding legend, a good skate spot can have various faces: "A good skate spot stimulates creativity, inspires to challenge ones skills and outlooks, provokes engagement and interaction with social and architectural urban life…or could simply be a smooth slab of pavement." But it is precisely in these places that conflicts arise between skaters and local residents or district and city authorities."It depends very much on the city whether skaters are seen as troublemakers or as an enrichment," Kilberth pointed out.
Berlin, in contrast to other cities, is considered a relaxed skate city. According to Veith Kilberth, there is more tolerance towards skaters. The fact that Berlin is a cultural hotspot that presents itself as very progressive, has certainly had an influential role on this development. Jan Kliewer, skater from the very first hour, who probably knows Berlin and its skate spots better than anyone else, agrees with this view: "Berlin is a rather liberal city. People here tend to be grumpy at times, but open. Usually they let everyone mind their own business."
But where skaters see a cool spot, there are often protected monuments or architecture that cities consider likely to be damaged by skating. From the point of view of most residents, skaters bring one thing above all: noise. Even in a generally tolerant city like Berlin, these conflicts arise sometimes. "Let me put it like this: It always depends on the spot and the nearby residents but you won't get chased away like in American cities. Therefore, it's uncharacteristic that the Neue Nationalgalerie stopped skating within the entrance area," Veith Kilberth points out one of the current conflicts happening in Berlin. According to the Tagesspiegel, the square in front of the Neue Nationalgalerie, which reopened after a six-year renovation, has been an integral part of Berlin's skate scene for more than 30 years and is a well-known hotspot for skaters from all over the world. Shortly after the reopening last October, skating at this spot was banned, at least temporarily – as representatives of the gallery later noted. This ban has been met with great criticism from the public and the skate scene: 3,025 people have signed the petition For the preservation of the skate culture at the Neue Nationalgalerie on change.org. The petition makes clear that skaters have long been tolerated in front of other museums, such as on the forecourts of the MACBA Museum of Contemporary Art in Barcelona or the concert hall in Porto.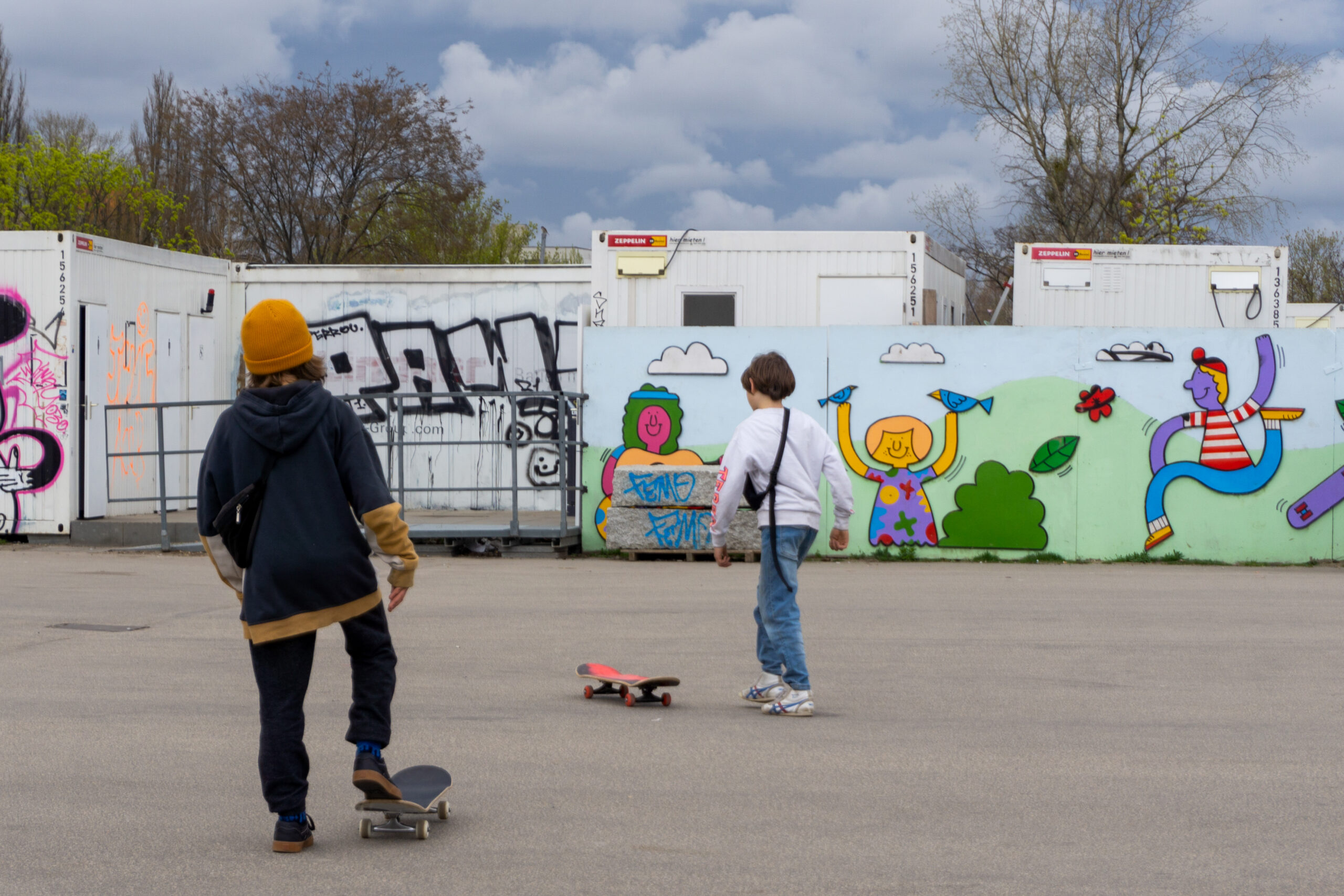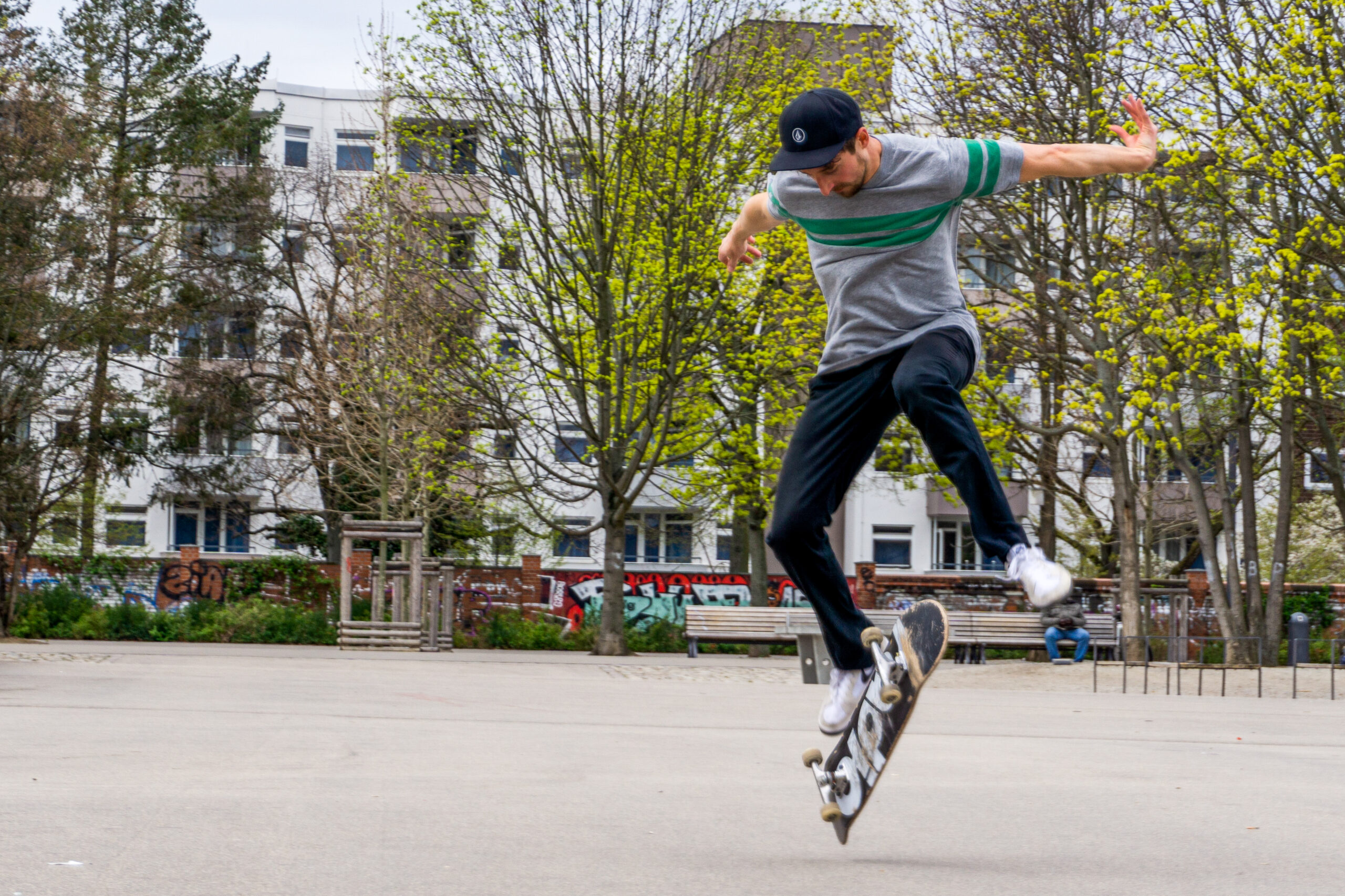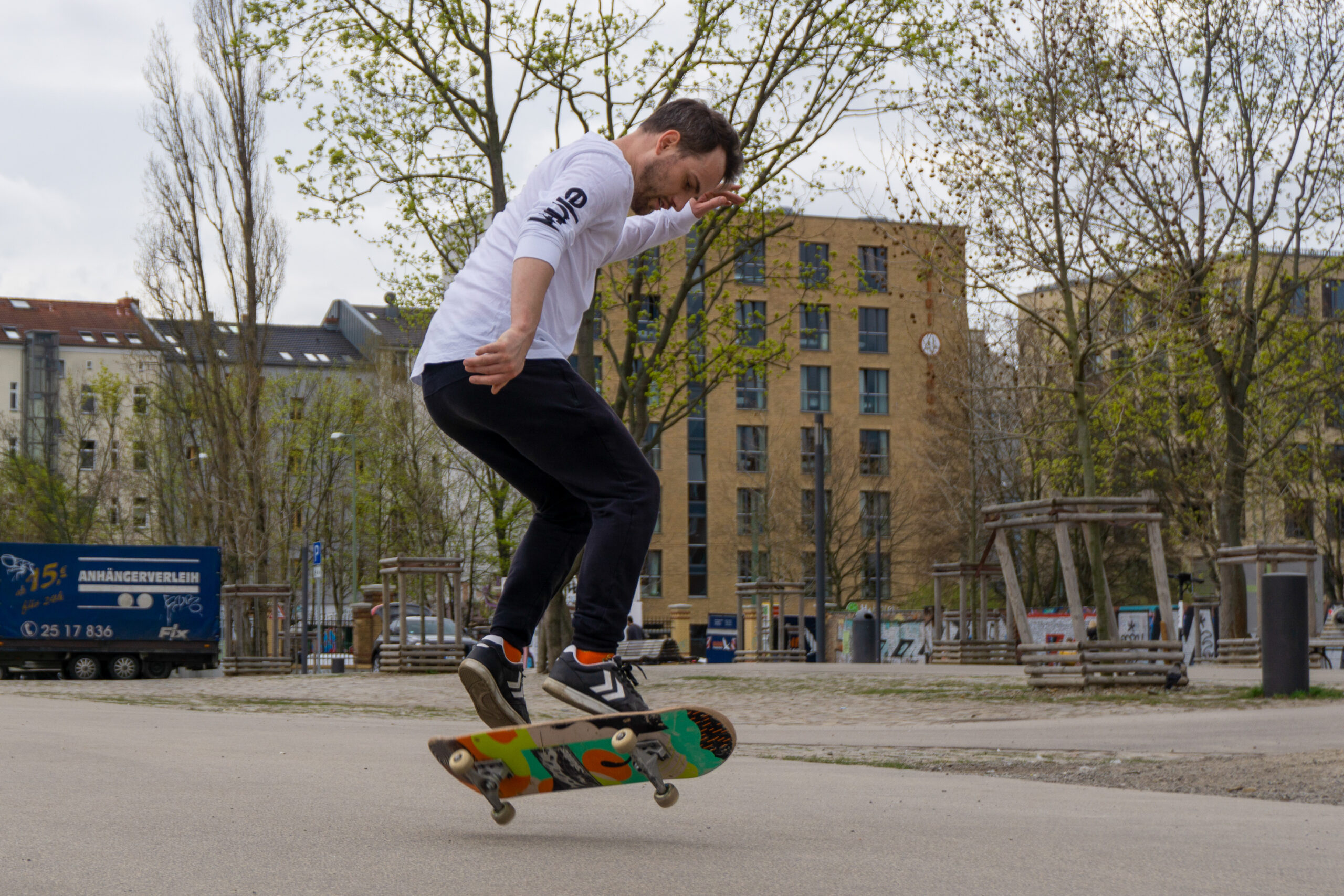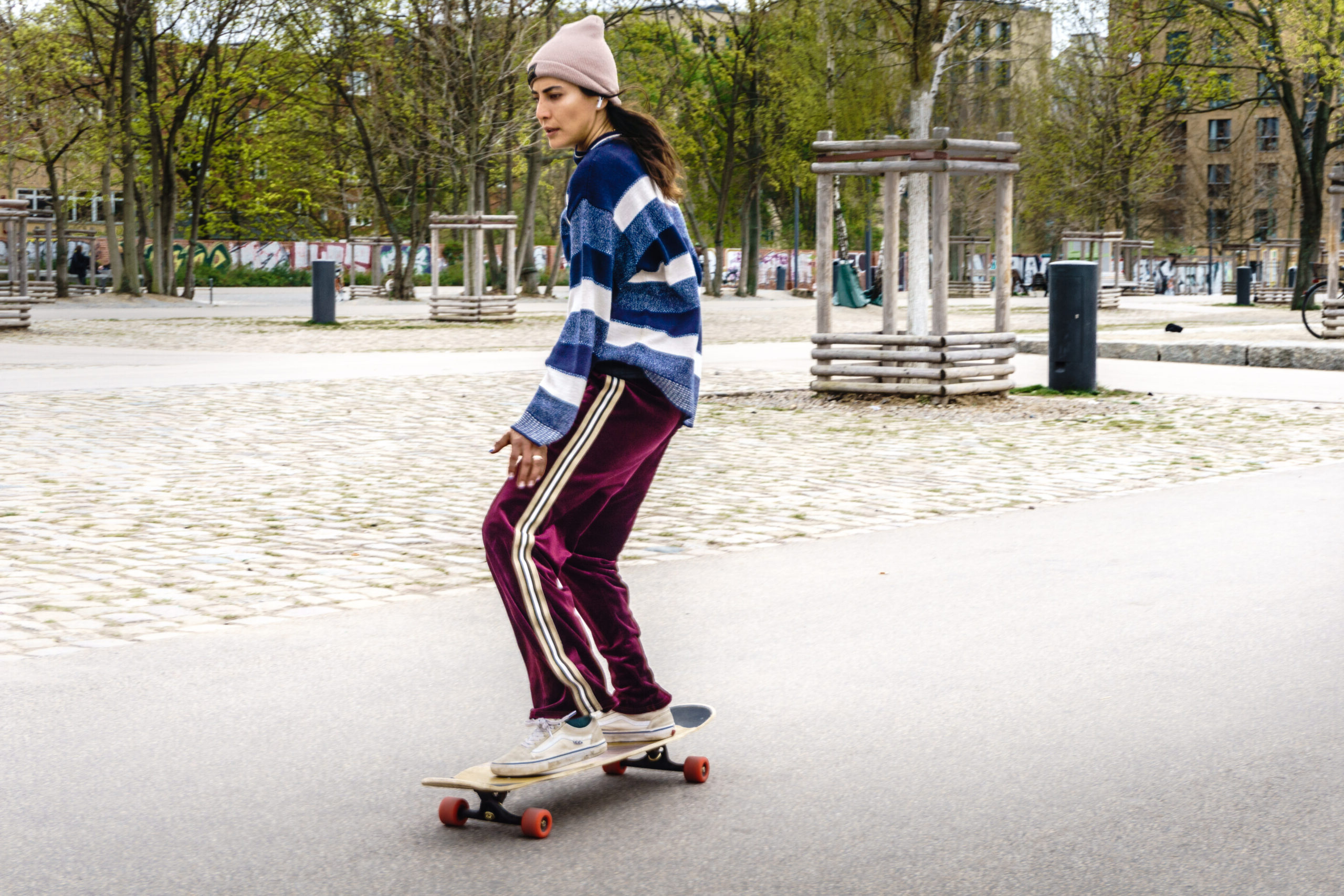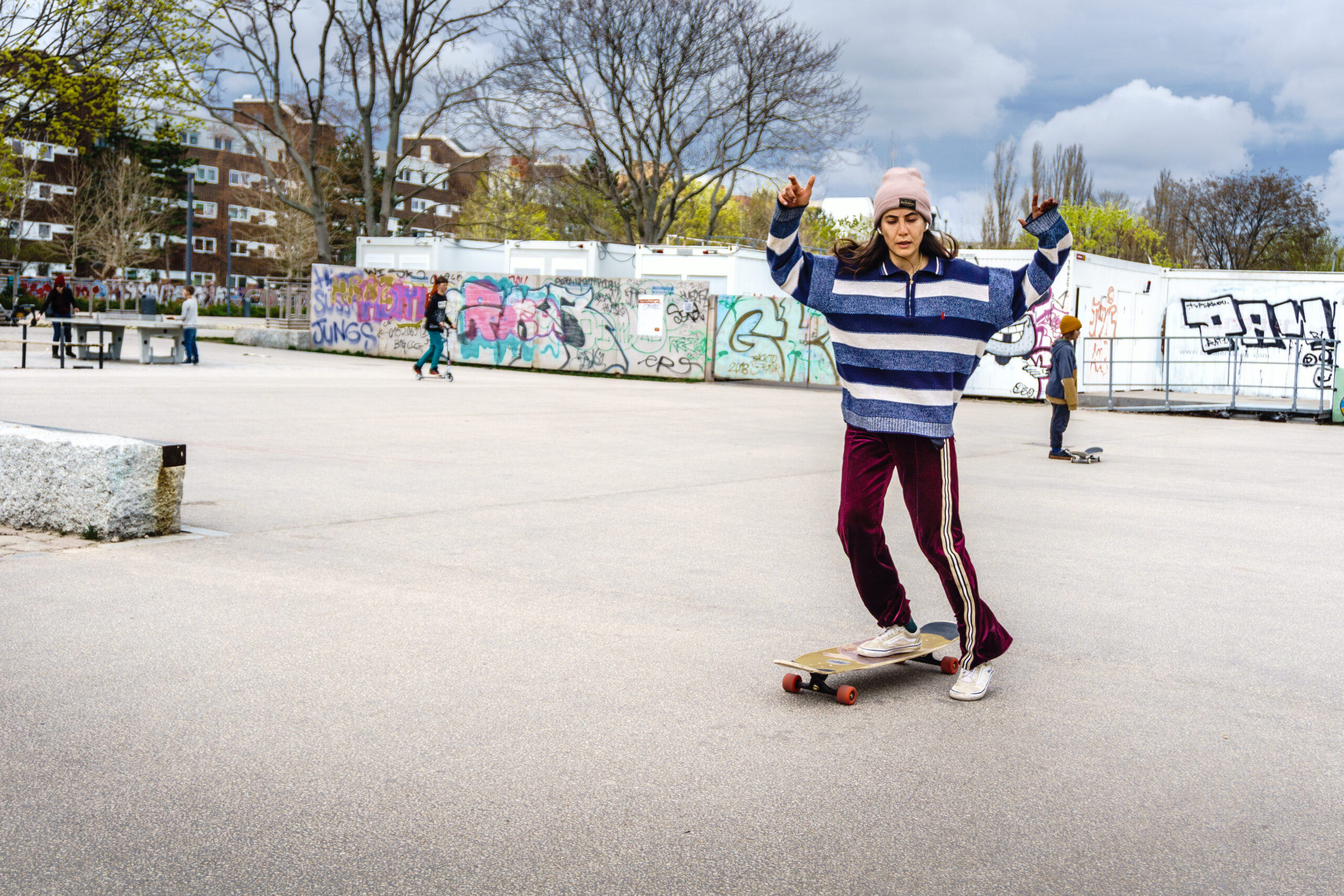 At first glance, Berlin presents itself as the holy temple of the skate scene, multicultural, acceptingly creative and colourful. But despite the rich skate culture, skaters have to stand up for themselves and their sport again and again. Be it through initiatives and petitions to get a permanent place in the city scape or through the attempt of a conflict-free integration of skateboarding in urban spots.