Classic matches, rivalries and derbies are a crucial part of football's culture. Could you imagine Barcelona without Real Madrid? Inter Milan without AC Milan? Or Celtics without Rangers?
However, depending where you go, some people take football rivalries to another level, way beyond the pitch, and Scotland is one of these places. In the north of Great Britain, your football team is almost always inextricable from your national identity and religion. Almost always.
There is the Old Firm — or Glasgow Derby — for example, where if you are a Celtics fan you should necessarily be a catholic separatist and if you are a Rangers fan you should be a protestant unionist. But in Dundee, this concept of division is something almost unimaginable.
The city of Dundee is home to two clubs: Dundee United and Dundee FC. Of course, they share a sense of local rivalry, but also a feeling of proximity. A feeling that goes beyond the fact that the stadiums of both clubs are less than 100 metres apart — making them the closest football grounds in Europe.
A friendly derby?
"I joined the club in 1962, and have been supporting it all my life. I have never seen any trouble" says Michael Evans, founder member of the Dundee United Supporters Foundation, sitting with me in his garden, surrounded by tangerine and black walls — just like his club's colours.
"You could say it is a friendly derby, but of course no derbies are ever friendly, and the Dundee situation is no different" he adds, "but here, it is not uncommon to have households where half is Dundee and half is United."
Michael comments that back in the day, in the 60s, it was extremely common that fans would go watch Dundee FC in one week and Dundee United the next, because the teams were in different leagues.
From across the table, after a long sip of his tea, Mark Cabrelli nods. "That is very true, me and my older brother, an Associate Director of Dundee United, used to go to Tannadice (home of United) in one day and to Dens (Dundee's stadium) in the other. It happened all the time, and you do not get that in Edinburgh or Glasgow."
Mark Cabrelli is a life-long supporter of Dundee FC, but, paraphrasing the man himself, his family has a distinct relationship with both clubs. "My father played for Dundee United and also signed for Dundee FC. My history is mixed between both clubs, but I am very much in the dark blue side."
In the name of football, of the fans and of a culturally diverse city. Amen  
As mentioned before, in Scotland, religion plays an important role when it comes to what club one supports. But, as Mark says, in Dundee this connection between faith and football is "absolutely non-existent".
Historically, when Dundee United was founded in 1909, the club was originally named Dundee Hibernian, an Irish catholic name, but as soon as 1924 the team had been renamed Dundee United, to prevent  links to any identitarian or religious factors.
"In the late 19th century, Dundee was a booming industrial city and attracted a lot of people. And because Ireland had suffered the Famine – a mass starvation and disease period from 1845-49 – there was a significant Irish population here, and they are the ones who founded United" explains Michael, "but the club changed name to cancel any kind of catholic connotation."
The stadiums also do not allow any sort of regional division of support groups, as it may happen in other cities around the world, not only because they are in the very same street but also because they are not located in the peripheries, being at a very central area of Dundee, excluding the possibility of a 'if you are born in the east side of the city you should support x and if you are born in the west side you should support y' kind of mentality.
"The fact that you had parts of the city with different cultural influences never manifested itself in hatred and violence, as you seem to have got in Glasgow" Mark adds.
Your rival next door: the same-street rivalry
According to Cabrelli, "the important things about the two stadiums is that they have always been there, for over 100 years."
In fact, even before the foundation of both clubs, the stadiums were already at the same location, as shown below in a map dating back to 1903.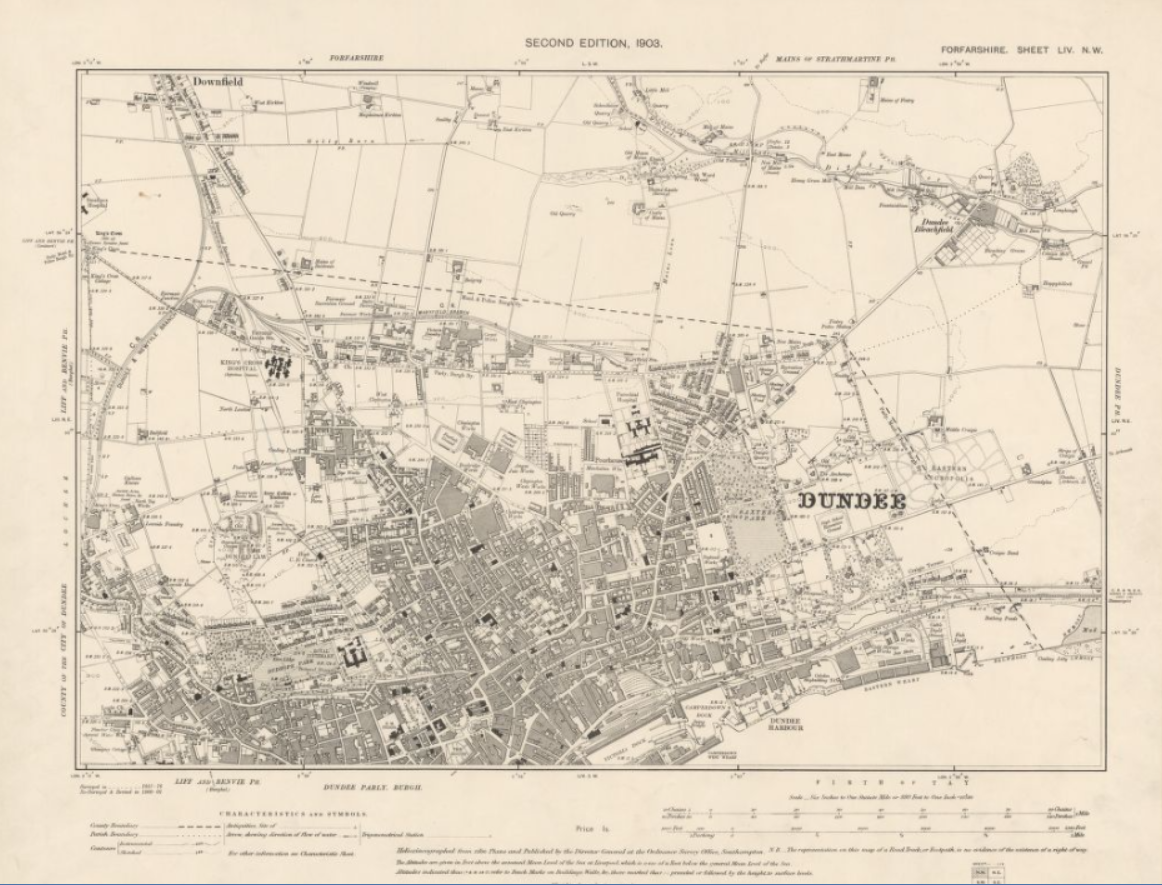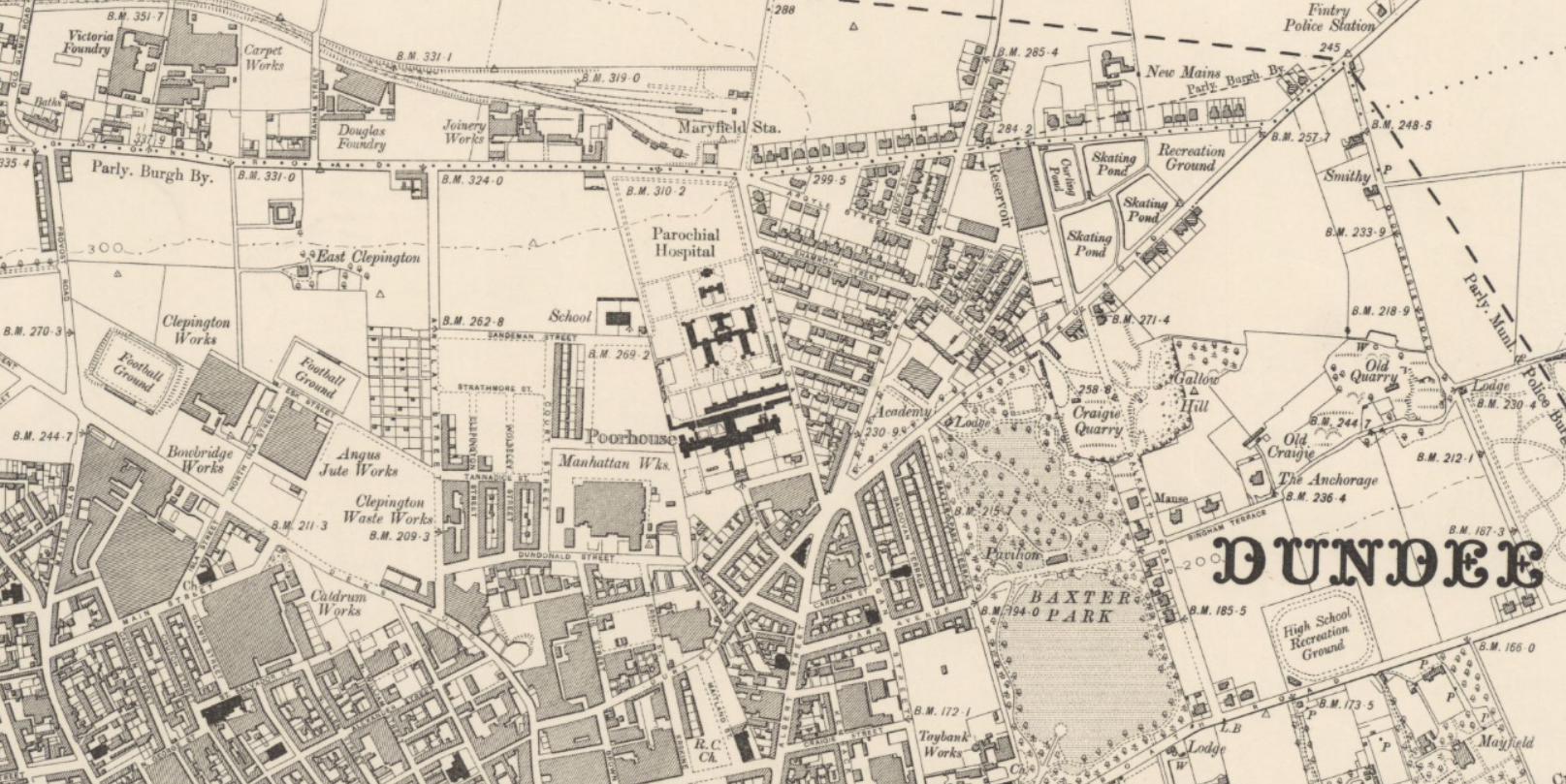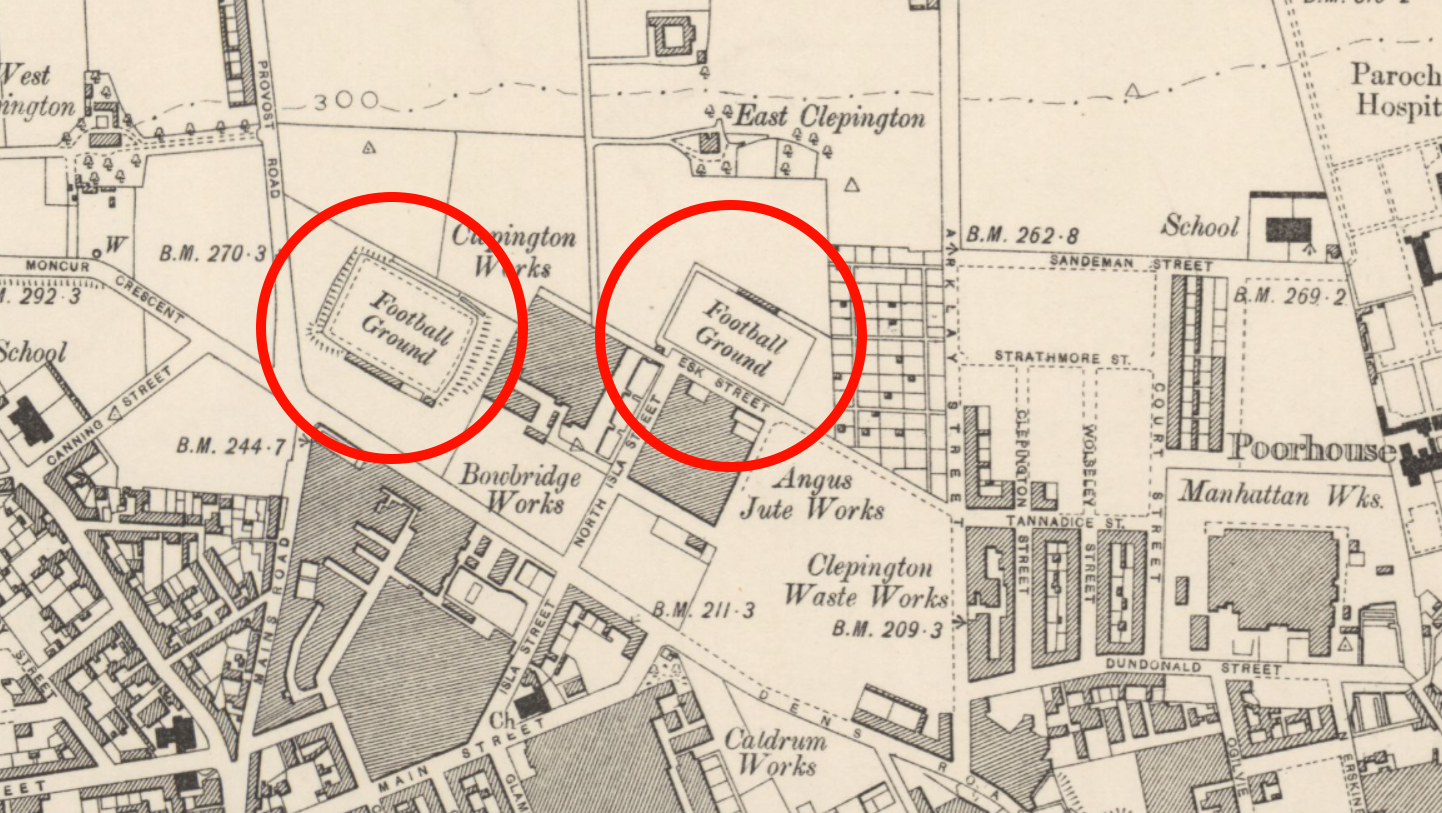 Mark also points out that other teams in Europe even play their games in the same stadium, especially in Italy, where in Milan and Rome, for example, the two main teams of the city have the same ground, but "this is something  relatively new, historically, all these teams had their own stadiums and were from different parts of town".
But not in Dundee, "here it is quite unique, they have been there forever, it is all we have ever known. In Derby days, the players walk from one stadium to the other, without any bother, other than a banter, of course", complements Mark.
In Dundee, the two city rivals had to learn to coexist almost in the same place, like brothers growing up in the same house.
"I cannot see a United fan ever wanting to kidnap a Dundee player", says Michael, sparking a round of laughs from everyone.
He continues: "For us, (this proximity) was never an issue, we are not used to anything else. I cannot see it happening in any other way, I think this is also what makes the Dundee Derby so special, it is our unique selling point."
Mark concludes: "I think the majority of Dundee FC fans do not want to ever move from Dens Park, this proximity is a cool thing to have."
A toast to the Dundee Frenemies
"Before and after the games, most of the pubs will have Dundee and United fans in them, without any problem, just drinking and talking a bit about football", says Mark.
This kind of close interaction is one of the trademarks of Dundee. "We know where to draw the line, speaking to your rival is like speaking to a close friend", Michael concludes and finishes his cup of tea.
As this calm afternoon tea in the garden exemplifies, the dark blue and the tangerine side of the Dundee manage to maintain a friendly and harmonious rivalry. But there is one thing that can change everything: the referee's whistle. Because once the ball starts rolling, the Dundee Derby becomes just like any other derby in the world of football.
The whole conversation — and a couple more anecdotes — can be heard in the podcast "The Dundee Frenemies":