People around the Netherlands have taken to the streets to fight for equal treatment of refugees.
On the 19th of July, the Dutch Government announced changes to legislation to fast-track Ukrainian asylum seeker applications. However, ongoing delays in immigration centres around the country have left many non-Ukrainian asylum seekers and refugees sleeping on the streets while they wait to be processed.
Ali Kamayungi is the founder of the African Refugee Collective and organiser of last week's protests. Kamayungi is an African refugee who started the organisation after experiencing homelessness and discrimination in the Netherlands. In our recent interview, Kamayungi explained how he strives to highlight how "racist policies" have impacted many asylum seekers and refugees in the Netherlands.
New policies 
The Dutch Government's new policy prioritising Ukrainian asylum seekers has left many other refugees wondering what will happen to those awaiting to be processed. This new policy has meant that many people from countries other than Ukraine, may be waiting longer than previously anticipated to be processed. Kamayungi highlights that this new policy will largely impact the majority of the Netherlands' asylum seeker and refugee population from Middle Eastern and African regions. "[These] people have been abandoned", said Kamayungi.
Kamayungi has argued the unequal treatment of these people reflects a "legacy of colonisation" and "engrained racism". "It is very shocking to see how our system is going", he said. Many of these asylum seekers have been left "homeless and sleeping outside" immigration facilities, such as the Ter Apel application centre.
System concerns
To seek asylum in the Netherlands, a person must report themselves at an immigration application centre. In centres like Ter Apel, the Central Agency for the Reception of Asylum Seekers strives to provide 3 to 10 days of accommodation, meals, counselling and medical support once a person has reported their asylum status.
However, due to the increasing number of Ukrainian asylum seekers, many other immigrants are left waiting be processed. "[The Government will] let a person live in the Netherlands … without income, without clothes on their back, without a right to work, without rights to healthcare, without the right to education", says Kamayungi. He believes the country has a history of xenophobic policies and "racism within the community" that influence policy.
For example, residents in the village of Albergen protested against refugees. The residents rallied to buy a nearby hotel intended to accommodate up to 300 incoming non-Ukrainian asylum seekers. They proclaimed messages such as "Keep Albergen clean" and "What are you doing to our beautiful little village?". This tension led to delays in housing these asylum seekers.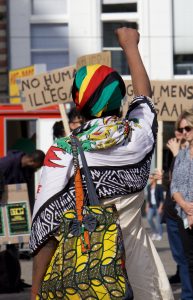 Their call to action
In response to cases of discrimination like this, the African Refugee Collective made a call to action. On September 13th, from Amsterdam to Rotterdam and The Hague, protesters met with flags, plaques and signs. They stood proudly in support of the refugee and asylum seeker community and rallied to raise awareness of the issue. People could be heard shouting "the crime is my colour" and singing "refugees are welcome here".
"We must change this narrative", Kamayungi emphasised. He argued the importance of raising the voices of people of colour through education. He stated, "there is so much work to do".
The IND and Dutch Government have taken initial action to prevent the homelessness of asylum seekers and refugees in Ter Apel. However, they are yet to enforce long-term solutions to prevent these prevailing issues as the Ukrainian War persists.