Fairtrade products are often associated with higher prices. Why is that?
Fairtrade is an association who helps farmers by giving them an appropiate salary. Currently there are 1.8million farmers who are working with them and therefore benefit by building stronger communities and having more control over their future. It results in a domino system. This looks like this: By getting more money, farmers have more possibilities to improve not only their life but also the ones from their family and living community. They can afford sustainable and ecology friendly ways of farming and can invest in long term.
Fairtrade enable all these things by choosing to make less profit. While normal retail companies get 80% of the sales, Fairtrade only earns 10-20% of the selling price. To still make profit and to pay workers a fair salary, the price of Fairtrade products is a bit higher.
But Oxfam thinks that Fairtrade products should still be affordable:
"In a normal shop you can buy a chocolate bar for one euro, here in an Oxfam shop you also can get a chocolate bar fore one euro. The difference is: Here it's Fairtrade, in the shop it's not"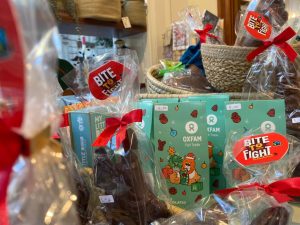 Oxfam is a worldwide movement who fights against inequalities and injsutice human rights and climate activism organisation. They show that Fairtrade does not always have to be expensive, their products are affordable, but still have a good impact on this world. You can find these Oxfam products in their shops which are spread all over the world. But in Belgium they have the highest numbers of shops. The shops are all run by volunteers. They do not get a salary and work as many hours as it suits them. They are responsible for opening the shop, helping out customers, decorating, keeping track of which products are needed and much more. As the work is mainly done by volunteers, it is possible for them to offer Fairtrade products at a lower price.
I spoke to two volunteers in Brussels about Oxfam and their work. You can listen to the audio field report here: