We're here and we're fucking queer!
Self-proclaimed QueerPunk bands with a clear in-your-fucking-face, anti-sexist, anti-homophobic, anti-transphobic message are here, and they are fucking queer. This is a change in the world of hardcore punk music. And according to people in the community, it's a much-needed change.
by Mathias Krogsøe 
Hands, arms, and roaring shouts are thrown in the air. You can feel the love and acceptance in the tight, packed, rumbling room. Along with the pounding kickdrum and thumping bass riff. "Lambrini Girls" are exploding on stage in a chaotic, aggressive performance of their biggest hit, "Help me – I'm Gay!" an ironic hardcore punk anthem about Homophobia and the male gaze. 
"Lambrini Girls," a three-piece band from the hardcore scene in Brighton – the unofficial queer capital of England – are currently touring Europe with their hard-hitting QueerPunk performances. Last week they played the alternative music festival Grauzone in The Hague in a venue that could easily have been twice the size. Even though the band has only released four singles and their first EP isn't expected to drop until later this year, the hype has already arrived in the Netherlands.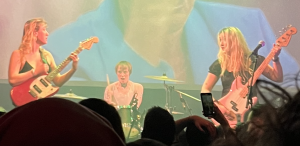 Punk has historically been a very masculine-dominated genre. Female lead punk bands and artists like X-ray Spex, Blondie, Siouxsie and the Banshees, and Patti Smith have generally been the exception to the rule rather than the norm. 
Not only Homophobia but its equally bigoted cousin, Sexism, was a part of the scene. Even though "No racism, No sexism, No homophobia" was a common anthem spray painted on the walls at punk rock venues, the reality didn't always match the good intentions. Even in the late 1990s, women at punk shows would still be called "Coat hangers," just there to hold their boyfriend's jackets while they were in the mosh pits…
But Queer punk artists have always been there. Just think of Proto-Punk artists like Ziggy Stardust or Iggy Pop. Back then, it didn't have a name. Now it does. QueerPunk has increasingly been a moniker for these self-titled QueerPunk bands, like Lambrini Girls. Just go to Bandcamp and look up the hashtag QueerPunk, and you'll find hundreds of new releases within the last few years. 
There is a trend in the scene, with more bands like this emerging, shouting their message and getting recognized for it. And subgenres like QueerPunk, QueerCore, and Bimbocore are forming as a natural continuation of the Riot Grrl subgenre. The Riot Grrl subgenre is a feminist punk movement that emerged in the early 1990s, associated with 3rd wave feminism. The Riot Grrl subgenre offered women, in particular, a platform to address heavy subjects such as rape, domestic abuse, sexuality, racism, patriarchy, classism, and female empowerment. The genre's frontrunners were bands like; Bikini Kill, Le Tigre, Skinned Teen, and The Third Sex. 
QueerPunk could be defined more as belonging to the 4th wave, which is happening right now, where questions of sexuality and gender identity are very much a part of the conversation. 
Lambrini Girls cite some of their biggest influences as the Riot Grrl bands "Bikini kill" and "Le Tigre." 
Silke Tanis, a queer nonbinary electronic musician releasing music under the stage name "****&c.," grew up in the punk scene, playing in multiple hardcore bands, and has seen this change with their own eyes: 
"Back in the day, when you went to a punk show, all the bands were male, masculine dominant types, and most of the audience was too. That started to shift about ten years ago. It's more mixed now, both on stage, and in front of it. And that's a very positive thing for the genre in general."
Silke Tanis explains, adding: "This shift in representation and diversity breathes new energy into the scene, and new voices and perspectives are being heard. And I think that is very fucking cool."