Digitalization, diversity, invisible barriers – nowadays it's hard for traditional art museums to stay relevant in a society that is moving fast. Therefore, new ideas and changes are needed to attract younger audiences. One example are immersive art exhibitions like "Viva Frida Kahlo". A trend to stay or to pass soon?
Mexican music, whistling birds, and colorful paintings. This scenery can currently be experienced in the Marx Hall in Vienna – an old cattle hall with 20,000 square meters that is nowadays used for various events. Since April 27, the venue hosts the exhibition Viva Frida Kahlo, the world's first immersive staging of the famous Mexican artist and her work. The immersive exhibition is one example of presenting art in a new way while traditional museums struggle in finding new audiences.
Today's problems
According to cultural scientist Nora Wegener, the audience of traditional museums get constantly older. One example is the Van Gogh Museum in Amsterdam. Here the main age group for Dutch visitors (including expats, exchange students, 18 % in total) is 65 to 74 years old and 45 to 54 years for internationals (82 %)*. The same can be seen for the Rijksmuseum in Amsterdam: with a main age group older than 65 years the audience was relatively old in 2022**. This goes for national and international visitors. On top, it's the group that grew the most comparing to the year before.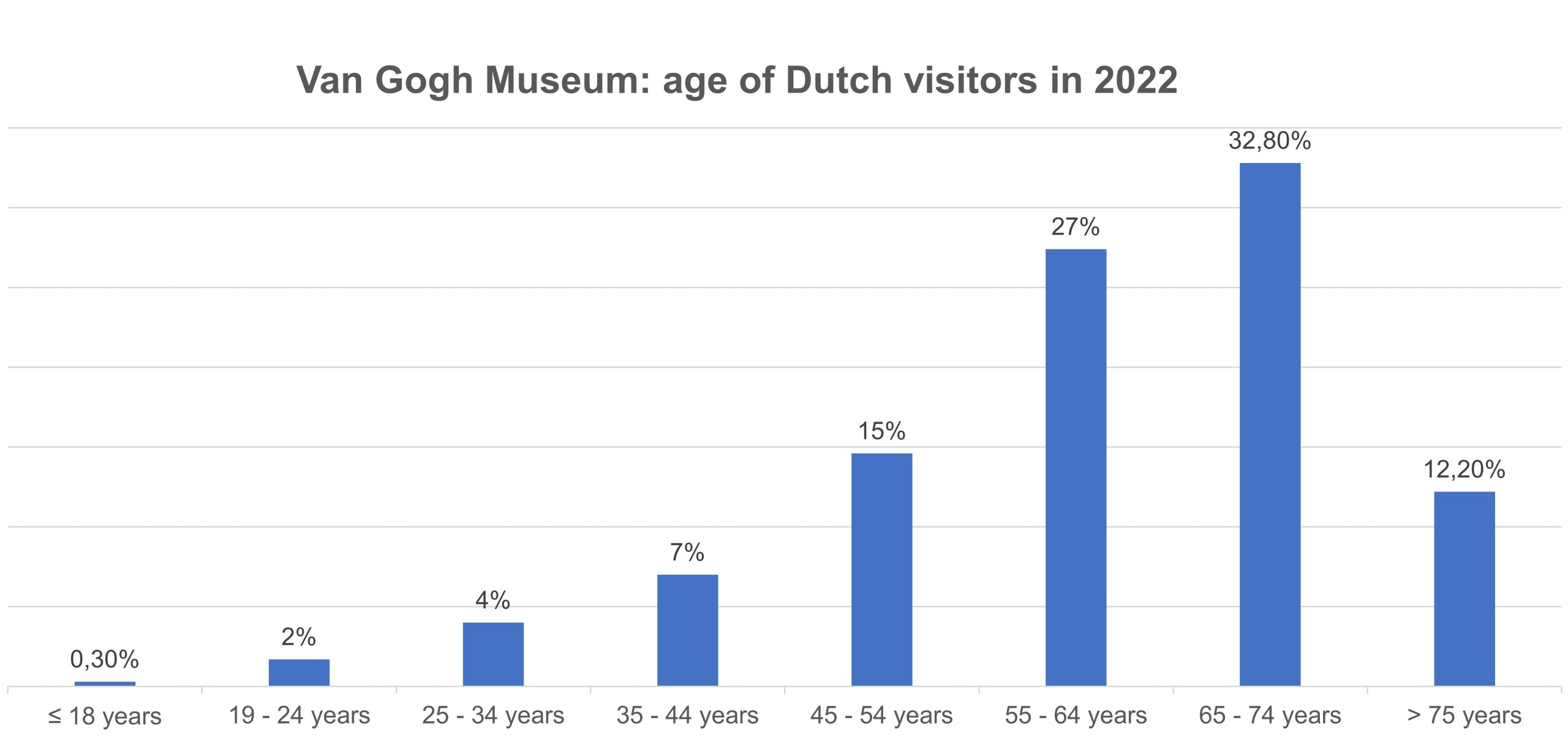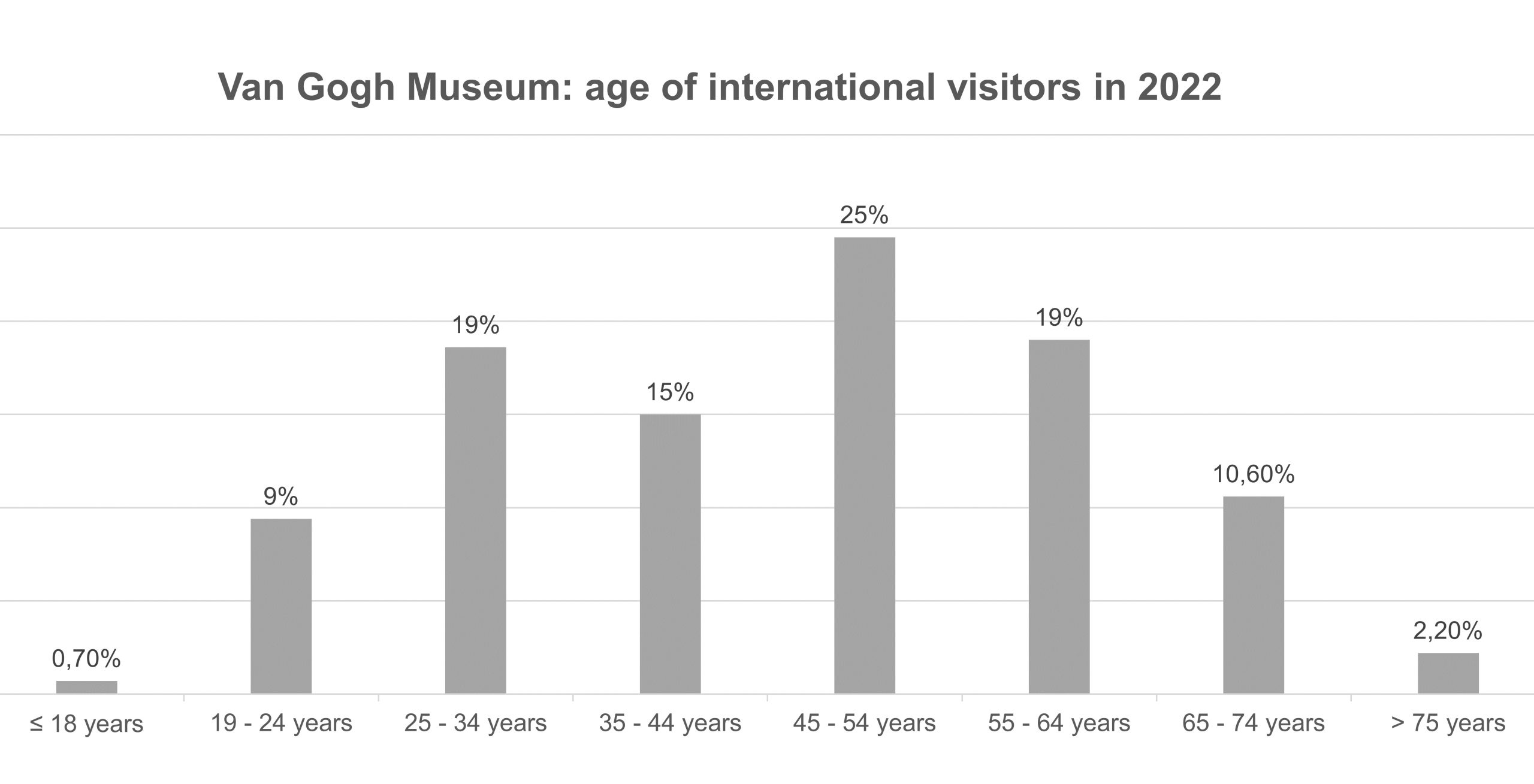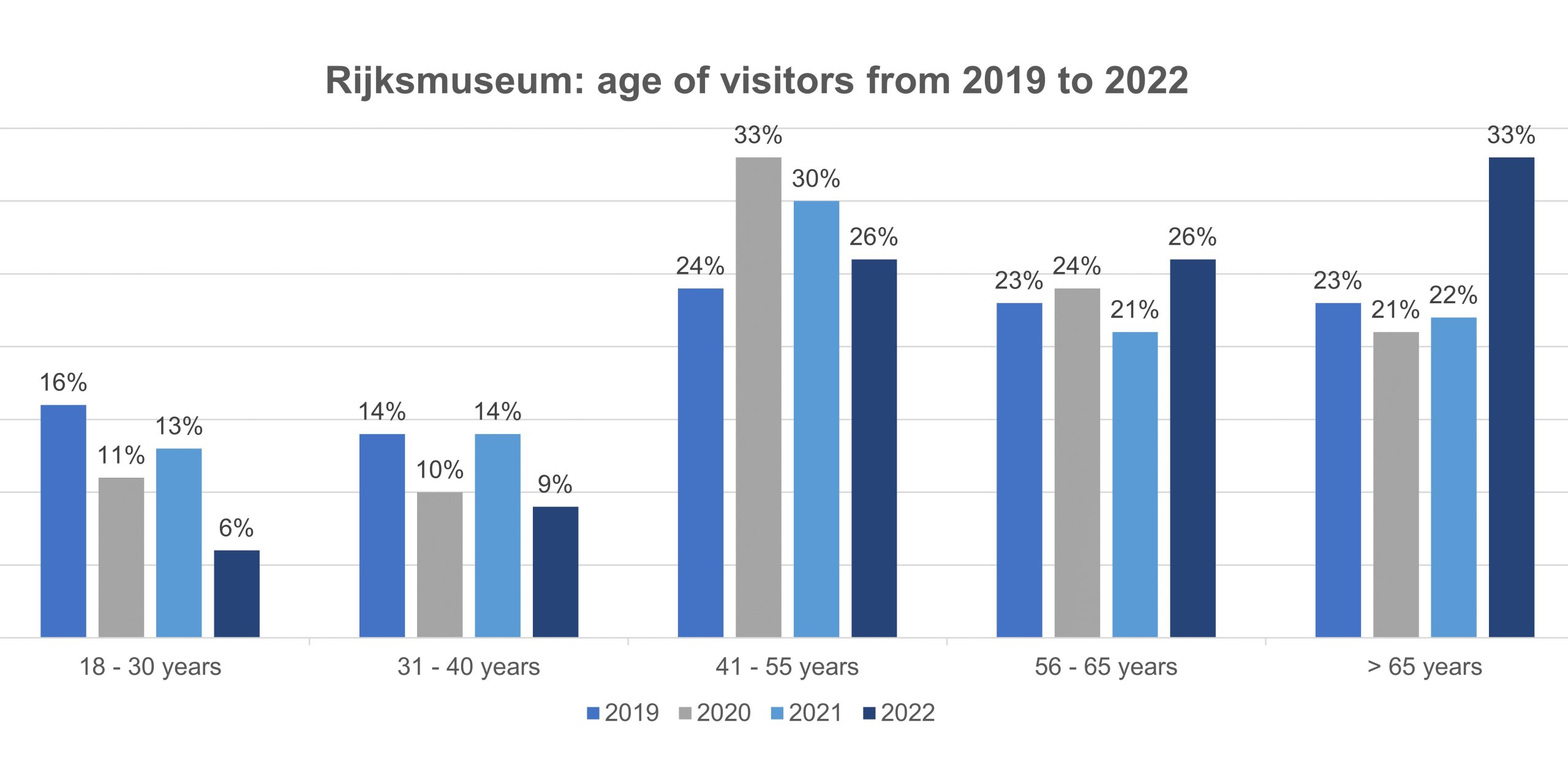 These statistics show that younger people tend not to visit traditional museum. A trend that can be explained by the various competition museums face nowadays: "It has always been an issue to get people into museums. But today it has become even more difficult due to all other kinds of digital offers like social media, Netflix, or other things that occupy people. On top, our attention spans have changed. Being relevant for society has probably become more difficult for an institution that is still very much stuck in its ways in the 19th century", says Julienne Lorz, professor for Expanded Museum Studies at the University of Applied Arts Vienna.
"Also, there's like an invisible barrier", continues Lorz. "Everything's very sort of highbrow or something where you feel like 'oh my god, if I don't have a PhD, I won't understand anything'." Therefore, improvement and new options to attract younger audiences are needed. "It's important for museums to keep evolving and to try breaking down the barriers in order to still keep a relevancy for themselves in society itself," says Lorz. One idea that seems to work are immersive exhibitions: "Most of the people who go to a classical museum have a higher education level. It's not for everybody, so we hope to make art accessible for everyone. Because it should be", says Fabian Quatember, member of the organizing team of Viva Frida Kahlo.
An immersive world
35 projectors and 40 VR glasses – this state-of-the-art technology allows visitors of Viva Frida Kahlo a unique immersive experience over 2000 square meters. Moreover, the exhibition offers much information about Frida Kahlo's life: "It starts very classical with a timeline and some interactive features. Here you can see the paintings of Frida Kahlo developing. Then we have a big virtual reality experience where you can get in touch with Frida Kahlo herself before you go into our Casa Azul", tells Quatember. Here visitors are taken to Frida Kahlo's home in Coyoacán, Mexico, where the artist lived and began to paint after a serious bus accident.
Quatember continues: "The main part of the exhibition is our immersive room where you can spend about 45 minutes and see everything that happened in her life. That's the grand finale." In the 360 square meter sized main room, 29 projectors offer a 360-degree experience and project Frida's small sized artwork onto walls up to 24 meters long and 5.5 meters high, as well as onto the floor of the hall. "You can see a lot of Frida's self-portraits. She created hundreds of them where she portrayed herself with fruits, veggies, animals, and plants. Every single object represented something – and that's what this exhibition really wants to show", explains Nora Wunderwald, Junior Communication Consultant of Sister Act, the PR-agency of the exhibition.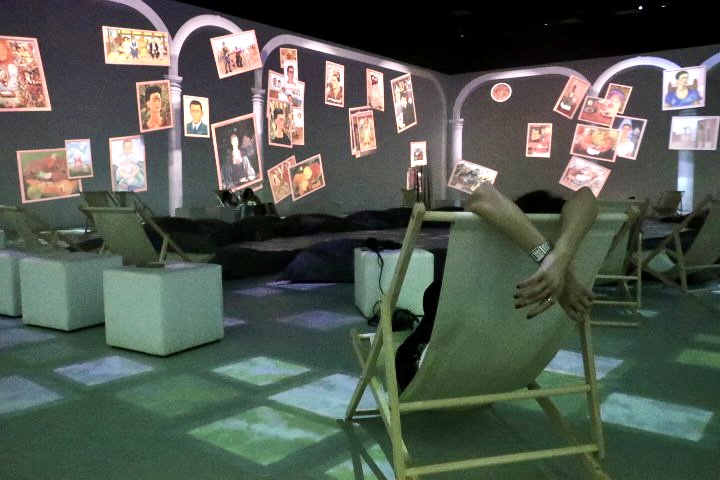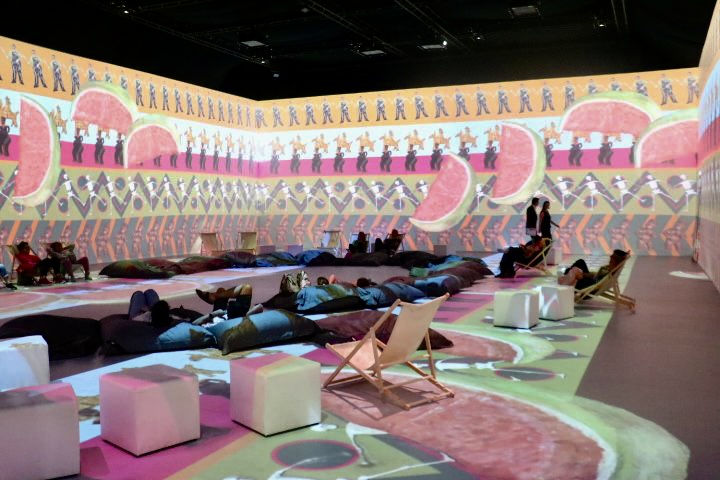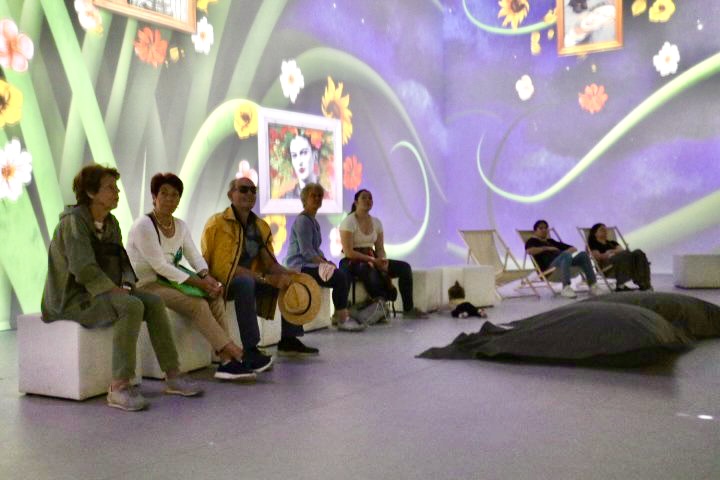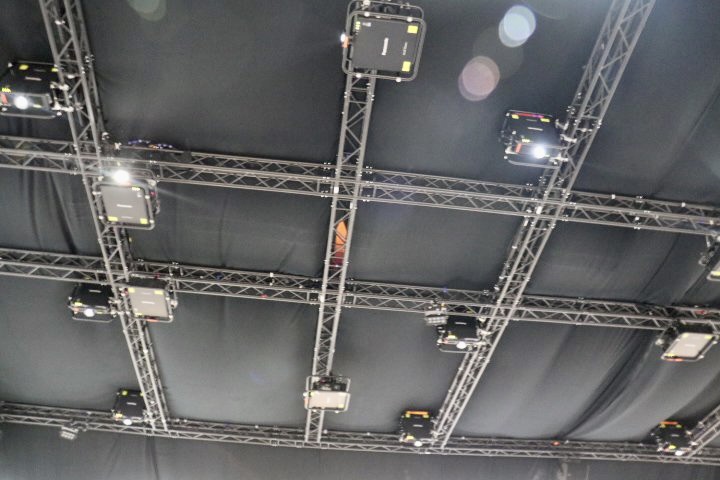 In 1939, Kahlo herself wrote: "They thought I was a surrealist, but I wasn't. I never painted dreams. I painted my own reality." Using Frida Kahlo's original quotes, a narrator in the role of the artist tells Frida's life: "Frida's voice is spoken by the actress Anikó Donáth. She does the German and the English voice," says Wunderwald. A short example can be heard here:
Translation: "But I'm not saying Diego is my man because that would be ridiculous. Diego has never been and will never be anyone's real man."
On request of her husband, just 20 paintings of Frida Kahlo are allowed to leave Mexico. "Immersive exhibitions are the only possibility for people who can't go to Mexico to experience Frida Kahlo. So, it's good to have them", says Quatember.
Immersive art exhibitions are a worldwide phenomenon. These exhibitions present the lives and art works of famous artists like Gustav Klimt, Claude Monet, or Vincent Van Gogh in a new way that combines people's touch, sight, smell, taste, and hearing. This allows visitors to walk into the 'scene' and attracts them to stay longer. This is made possible by new technologies like synesthesia technology, holography, interactive 4D technology, and augmented as well as virtual reality, which evolved in the last twenty years and offer artists, museums, and venues new possibilities to attract new audiences – and this is successful.
The Van Gogh Experience only can count more than 2.5 million visitors around the world, according to the organization. Viva Frida Kahlo expects around 100.000 visitors in four months. Based on this success, new technologies, tools, and digital formats are planned to be implemented in exhibitions worldwide as a survey of 150 museums by Museum Booster shows.
An attraction for every age
"Our exhibition attracts all ages", says Quatember. "We think the average age is around 40 but it depends very much on the weekday. We have a lot of seniors here during the week and a lot of families at the weekend. But we also have a lot of students and classes. A little fun fact: we were under the top five date locations in Vienna with Monet's Garden [previous immersive exhibition in the Marx Hall]. It was very funny to watch, especially in the evenings", he laughs. "But also, people that go to classic museums are here and very excited because it's something they haven't seen yet. They haven't seen a virtual reality experience; they haven't seen an immersive experience."
Based on the different audiences, the main age group of Viva Frida Kahlo seems to be younger than the one of traditional museums. This goes along with information received by Ateliers des Lumières in Paris, a venue that shows immersive exhibitions of different artists. Here the average visitor is 33 years old.
However, immersive exhibitions are commercial ventures that are very expensive. This can be a barrier for younger people or people with lower income to visit the exhibitions. "We are already at a quite high price level; the ticket costs over 20 euros. All the museums get a lot of money from the government, and we are just a private company, so we don't. This is why we can't think about getting originals and modern technology, because it's way too expensive", says Quatember. Therefore, immersive exhibitions can't be the only solution to attract new audiences.
Coming up with more solutions
"Today, museums offer a lot of community-based programs and special events where they're bringing in schools or community centers. They try to get more into dialogue with their local audience particularly – even huge museums like the Tate", explains Lorz. "Also, they try to be more digital, some of them have even entered TikTok. I'm not sure if that's the best way forward, but some of them have. They really try to find modes of communication that works for the museum, their purposes, but also for the audience."
An example for such a community-based program can be found in Berlin. Since summer 2021, the capital of Germany has an admission-free Museum Sunday on the first Sunday of every month. More than 60 museums do not charge admission on these days and many of the museums offer a diverse program of events. The goals are to positively change the image of museums among the population, to lower financial barriers to visit museums, and to reach not primarily tourists, but especially Berliners and so-called "underrepresented target and stakeholder groups". These are people rarely or not at all visiting museums.
The idea seems to work: Berlin's classical museum audiences are often older, more formally educated and less diverse, and in popular museums they are also often highly tourist oriented. With admission-free Sundays, this is different. The central visitor groups are 25 to 34 and 35 to 44 year-olds from Berlin. People with an immigration background are also reached more often, according to IKTf. In the first 12 month, they conducted a survey in 15 state-funded museums parallel on the admission-free Sundays. The answers were compared to a survey by the KulturMonitoring-System that ran in these museums on the other weekends in the same period.
Another idea can be found in Austria. Here the so-called "Bundesmuseen-Card" was invented in 2018. This card costs 59 euros and allows its owner an unlimited entry to all Federal museums and the national library in Austria for one year. From 2018 to 2021, a total of 72.533 cards have been sold and 230.243 visits have been recorded, according to the Federal Ministry for Arts, Culture, Civil Service and Sports. For young people until 19 the entry is entirely free – an offer used by over 11.4 million children and young people from 2010 to 2021.
The future of museums
Positively changing the image of museums and making them attractive to more people can – like any image change – only be achieved in the very long term. "A lot of things are happening, but they may not be visible at that point. This is the thing where it's sort of tricky, because I think a lot of museums are on the right track. A lot of them are doing the right things, trying to become more agile, etc. But it usually takes a long time, and it's often connected to finances, to staff, and all these things. So, while the museum might be looking like it's in a standstill, it's already working on its future, but you just can't see it yet", says Lorz.
With its success around the world immersive exhibition are a good option to make all kind of audiences interested in artists and their work: "We have the experience that 95 % of the people go out and are very happy – and 5 % think it was not what they expected. But I think that's a very good outcome. It's probably worse with traditional museums", says Quatember.
However, the success of immersive exhibitions doesn't have to correlate to museum visits necessarily: "Museums hope that people will, or young people particularly of course, will then sort of find it fascinating and make their way to the museum. I'm not so sure if that happens to be honest", doubts Lorz. Moreover, the professor herself is, like a lot of other people, not a big fan of immersive experiences: "We can have very good digital representations but it's still not the same thing to me personally. You have a totally different sense of color, saturation, materiality, and smell.  And the other thing is the dimension because a digital picture can take any size it wants. But when you are standing in front of the actual painting, some of them are surprisingly small, or some of them are surprisingly large. It does something with you when you're standing right in front of them."
Therefore, immersive experiences are a trend to stay but they can't be the only solution for museums and venues. On the contrary: more long-term solutions like specific programs or free admissions are needed to attract new audiences. As Lorz says: "They are the ones who will be coming when they're older and they're the ones who will then be telling their kids."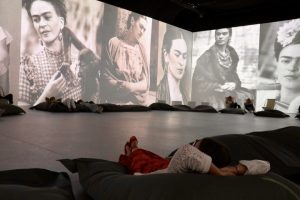 ---
* Please note that there is a bias in the data towards the older segment since visitor that are 45 years and older are more likely to answer the questionnaire. This leads to an underrepresentation of the ages 18-44 years. The misrepresentation may be up to 10-20 precent.
** The age distribution only applies to visitors over the age of 18.