On the 9th of December 2020, the International Criminal Court published a report on the preliminary examination of the alleged war crimes by UK forces in Iraq. Fatou Bensouda, the prosecutor of the International Criminal Court (ICC), stated that the Court took this decision even if there is a reasonable base to believe that members of the British armed forces committed war crimes of willful killing, torture, inhuman/cruel treatment, outrages upon personal dignity, and rape and/or other forms of sexual violence.

The Court published in their report that the initial response of the British army was inadequate with a lack of genuine effort to carry out relevant investigations independently or impartially allegations of war crimes committed in Iraq. The process took more than 10 years of investigation and thousands of allegations, where not one single case has been submitted for prosecution.
The International Criminal Court (ICC) located in the Hague, the Netherlands prosecutes countries on four different crime categories: genocide, crimes against humanity, war crimes, and the crime of aggression. To proceed with an investigation there are several criteria that need to be met. These criteria were not met in the case of the UK/Iraq which resulted in the closing of the case. Any State, party to the Rome Statute can request the office of the prosecutor to carry out an investigation on a case. But also, the United Nations Security Council can request the court to investigate. The Rome Statute is signed by 123 countries of which 80 non-western states and only 43 western states.
Striking is the balance of investigated and prosecuted individuals for their (alleged) war crimes between western- and non-western states. Now only 4 cases have been convicted by the Court, which of all were individuals from non-western countries. At the moment, all of the individuals that are in the custody of the Court are non-western. Several non-Western countries pulled out from the ICC stating the Court is discriminating against non-western countries. Russia mentioned that they are unfairly punished for their annexation of Crimea while Israel has yet to be punished for their annexation in Palestine. Burundi was the first country to leave the ICC stating that the Court is too focused on the African continent. Sudan, South-Africa, and Rwanda accuse the Court of discriminating against non-western countries but did not pull out of the ICC.
Map countries member of the Rome Statute published by The International Criminal Court 2020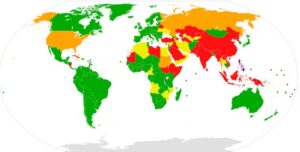 Concerns by NGOs
Not only States but NGOs speak their concern about the fairness of the way the Court operates. Human Rights Watch, stated in an interview in 2020 that powerful countries and their allies still get away with their war crimes by not joining the ICC, using their political power by blocking referrals by the Security Council, or purposely 'denying' membership of the ICC.
A clear example of the latter is the United States. The US sanctioned Court officials as a response to the attempt of an investigation in 2016 for alleged war crimes by US forces in Afghanistan. The US forces got accused for torturing at least 88 people at several sites in Afghanistan. Four years later the US forces are finally under investigation.
Looking at this it seems like western countries really do get away with fewer consequences of their (war)crimes than non-western countries. The question really is how is this possible and what can be done to prevent this seemingly unfair balance in the future? Therefore, we speak with Elise Keppler, associate director of the International Justice Program of Human Rights Watch, based in New York. And we speak with Gerry Simpson, Professor of Public International Law. Gerry Simpson is specialized in International law, War, and War Crimes and is based in London.
Do individuals of western countries get fewer consequences for their war crimes?

Elise Keppler: "It is not that clear cut, but for a variety of reasons individuals from Western countries have been less accessible for trials on alleged war crimes. I wouldn't exactly say the 'west' but more powerful countries have been able to insulate individuals. For example, by not joining the International Criminal Court or using their Veto right at the United Nations Security Council.". Keppler uses the example of the United States that has been using its Veto right and did not join the ICC to protect its U.S. forces from investigation and prosecution by the Court.
Gerry Simpson argues that bias in favor of western countries can be seen from multiple perspectives. Gerry Simpson: "It can already be a bias that the Court is only prosecuting war crimes from after 2002, and there are many more biases that can be linked to this statement. I think it is important to look at the historical perspective." Gerry Simpson points out that with the history of colonization and western oppression international lawyers and lawmakers are really focused on being non-biased and 'doing the right thing'. That the Court has only been prosecuting individuals from non-western countries at the moment does not help to paint a fair picture. But can you say that it is really biased? Most African countries go to the Court by themselves because they do not have the resources to prosecute long-sought criminals within their own court, contrary western countries mainly prosecute and investigate cases within their own court. This fact already sketches a crooked picture."
What can be done to change this situation?
Elise Keppler: "It is a very frustrating situation that individuals from powerful states and their allies have been able to be more shielded from their reach of justice, and victims deserve to see alleged preparators face trial. It is a tough challenge that all concerned governments, activists, and intergovernmental institutions need to work to overcome. I think it would be unrealistic to see change overnight, it is going to be something that takes time to work to overcome. But in the meantime, we should pressure countries to join the International Criminal Court and give them stronger political consequences for using their Veto right at the UN Security Council." Who should put this pressure? Elise Keppler: "Activists, the 123 countries that signed the Rome Statute, allies of countries that have not joined can raise the pressure to join. The European Union can raise the pressure for the US to ultimately joining. I think if you look at a situation where there are horrific crimes, the US should withhold its veto, simply because of the fact that there are horrific crimes committed."
Gerry Simpson does not necessarily agree with the statement of Elise Keppler to pressure countries into membership: "I think that every country should have its own right to make a decision whether to join or not join the International Criminal Court. The whole point of the Court and the Rome Statute is that countries have a choice whether to join or not join. I don't see why the United States should be forced into joining the ICC. Besides, we always see powerful countries as powerful until they are in court facing prosecution. No one would have assumed that the Germans would get punished for their war crimes during World War II. Or think about the Yugoslavia tribunal. 163 people got indicted for their war crimes. People got convicted for their crimes, so I do not want to necessarily assume this won't happen with the U.S. forces or individuals from other countries who are seen as powerful countries."
In conclusion, we can say that this is a very difficult subject with a lot of different opinions and views involved as seen with the contradicting answers of the people interviewed above. Is the International Criminal Court biased? That is still a strong allegation to make, but it is good to keep a good watch on what is happening during the process.