Friday night: Usually, Nadine Sardelic would get ready with her friends now. She is 22 and is living her life to the fullest. Actually, she is trying to, but the pandemic is still here and so are the restrictions. The reality is: Nadine is sitting alone in her room, texting her friends and swiping through tinder to meet new people. "It was a complete shift. You could not do the things you would usually do, and you had to get used to it. I think my social life suffered most in the pandemic." said Nadine. Festivals have been cancelled, there are prescribed closing times for bars and restaurants, and nightclubs are not open yet. These things will change on the 25th of September 2021 in the Netherlands, but for the last couple of months, this has been the reality. Even going to school or university was not that easy anymore, and homeschooling became predominant.
The pandemic affected our lives in many ways. A big part of it was social life. A study from the Publications Office of the European Union shows that a feeling of loneliness became more common during the pandemic. Young people aged 18 – 25 felt lonelier due to social distancing measures and were affected by it the most. For singles, it was even harder. This group experienced an increase in the prevalence of loneliness. Compared to 2016, the percentage has increased by 22 percent.
Social life has shifted more and more into the digital world, dating included. Usage rates of dating websites and apps have increased during the pandemic, but not because everyone was looking for the love of their life or even just a hook-up: "Online dating apps have taken on an additional function during the Corona pandemic. Before, they were relevant in the sexual and romantic area in particular, and now, they have drifted more into the social sphere – a function they previously had with dating apps for gay and bisexual men. Gay dating apps are always very sexually charged, but they've always had an unconscious social function as well, and somehow a lot of community building took place." as Dr. Richard Lemke, a sexologist and communication scientist, reports.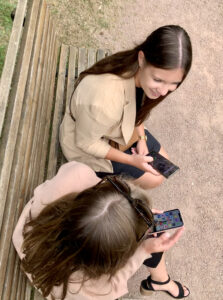 "I always delete and reinstall it. Actually, I used it when I moved here to Utrecht, just to get to know someone already. It's a nice and easy way to get in touch with people all over the world. I reinstalled it when I went on vacation, to meet new people. Some of my friends use it like this too", Nadine said.
In the opinion of Dr. Richard Lemke, it cannot be said that everybody uses dating apps nowadays. "People who have already either had contact with dating apps or considered to use them just used it now and said: Yes, I'll give it a try, but not with the conviction that I'm going to give up classic dating completely. But I'll have a look, click through. I might meet two or three people for a walk, but the longing remains that at some point, it will be different again."
Online dating fulfills several functions. It cannot be assumed that online dating is going to replace traditional dating. That does not correspond to human nature, and during the pandemic, it became evident that as soon as things were allowed again, people started doing what they could. It cannot be assumed either that the internet is going to be the new and only place where you meet your friends. It is nice to have, especially in times where it is not that easy to get to know other people the conventional way. Tinder, Bumble, Bumble BFF and more dating apps give people the opportunity to get to know other people, hang out, go for a walk, or date one another. There are many things that are possible with it, and the boundaries between the different areas are blurred.