Elon Musk's Tesla has been slammed by his workers and German unions over the poor treatment in Tesla's Berlin/Brandenburg gigafactory.
The electric car company has seen workers facing low pay, gross pay inequalities and an unacceptably poor working environment at their workplace.
The Tesla factory has been in operation since March 2022, yet many buildings themselves have not yet been fully finished. Rather, employees for these last seven months have been working in an operating construction site to finish building the factory.
Working at the Tesla factory, Commissions Technician Tobias Schmaus has spoken out about how since starting at the location in April the construction of walls and everything around him was being done as he worked.
Completing his work has been in conditions that he easily describes uncomfortable.
"Inside we have no AC and two ovens for wax coating which are 100 to 150 degrees so it was sometimes 40 degrees (in the building) and we work ten hours a day so it was hot," said Schmaus.
"Companies like Tesla can definitely do a lot more for their employees," he said.
Unfinished buildings to work in have left employees like Tobi feeling Tesla is focused on the rush to start work and overly pushing their staff.
"You feel this everyday, nearly all day (…) and it just stresses people out."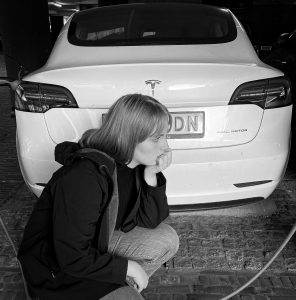 "I mean that's the feel you have about Elon Musk in general. He has something in mind, he wants it and he wants it
tomorrow. Give it some time and I think it will work better for everyone"
During this time Berlin union IG Metall Bezirk has been working to improve the conditions for its members at the Tesla factory and increase their low wages also.
IG Metall Bezirk reports that "at Tesla in the new plant in Grünheide, things are often hot in the struggle for good working conditions and fair wages".
Tesla employees have come to the union with intense concerns over "wage differences to other car manufacturers in Germany, occupational safety and the right to organize in a union," said IG Metall.
District Manager of IG Metall, Birgit Dietze explains his union is seeing "increasing numbers of reports from Tesla colleagues who are complaining about wages that are too low and unequal".
Working with IG Metall the European Trade Union Confederation Press Officer (ETUC), Julian Scola says the confederation is "aware of the situation in Berlin and (…) certainly concerned about the low pay and gross pay inequalities, and about the behaviour of some multi-nationals in Europe.
Such behaviour in Europe caused concern after various reports linking poor treatment of employees to Tesla, Amazon and other multinational corporations in other countries like China and the USA.
Crucially, ETUC has expressed its legislative initiative of a minimum wage directive in the EU as a hopeful step for
Europe in fighting poverty pay and multinational company exploitation.