Greeted with hand sanitizer and a smile from 1.5 meters away, customers flock to their favorite restaurants for a delicious meal to be placed in front of them and for an escape from all the craziness of the 2020 world, some kind of escape to normalcy. Behind the scenes, hosts of restaurants are forced to double their hustle in order to deliver an experience to their guests while still considering corona. Restaurants not only have to make an extra effort to keep their customers safe, but to make them feel safe. How do they manage this amidst the current corona circumstances?

"I try to hand people plates without our hands touching, but otherwise we are careful to keep our distance as much as possible. We've thought about wearing masks, but it's less welcoming, people can't see our smiles and our faces," says Meryem, a waitress at her family's restaurant Olive & Lemon in Arnhem.
"And we are always washing our hands. Every hour like you are supposed to, but also every time I come into contact with anything; a plate, a teacup, a chair. It's for the customer's safety, but ours as well. You can't be too careful, you just never know."

Safer Regulations, Greater Obligations
Managers are tasked with an extra load of responsibility along with running their business, as they are required to always stay up to date with the newest government regulations.

"New regulations for our indoor capacity are going to mean that everyone who wants to eat has to call to make a reservation unless there is room outside for them. We can't even let people in sometimes unless they have a reservation. Sometimes, we have to turn people away, because there is just no way to accommodate everybody," Meryem says.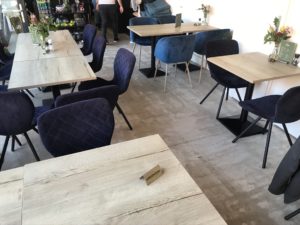 Image: Reserved tables at Olive & Lemon

Extra Hygienic
Every accommodation of the rules can adversely come at a cost. Large groups must sit separately, regardless of their relations to each other. Four people per table per one 1.5 meters, no exceptions.

"Sometimes people don't get it, they say 'But we are all friends!' 'We are in the same household!'" Meryem explains a recurring situation. "But it's just the rules, we can't tell them anything else because there isn't anything we can say or do about it."

On top of that, there is an even larger task of managing the indoor space. The bathroom must be closely maintained, and everyone must sanitize their hands before they enter. Every surface anyone touches must be sanitized with disinfectant. "We basically have to be extra hygienic. In the bathroom, there has to always be enough hand soap, no reusable towels, and enough toilet paper. When people leave we clean where they were sitting. We clean the chairs, the tables, everything."

Distance Working
Not only are restaurant workers concerned about keeping their customers safe, but they have to keep employees safe too.

"There are two people in the kitchen who I keep my distance from, and two people on the floor. We all keep our distance from each other, but still, the waitress has to receive the order from the customer, give it to the cook, who gives it to the runner. We try our best to keep ourselves safe and each other safe. But it's challenging, it's definitely really hard."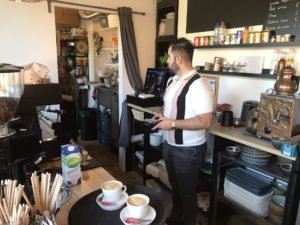 Image: Employees stand apart behind the counter at Olive & Lemon.

In a family business like Olive & Lemon, employee safety is personal. "I'm a waitress and my mom is a cook. She's safe in the kitchen, but I encounter all these people every day, I don't know where they came from, if they have just been on vacation or if they know someone who has corona."

A New Restaurant Experience
In March, the restaurant industry lost approximately 25.3 billion euros and is predicted to lose more than 200 billion euros by the year's end, according to the National Restaurant Association. The industry has been one that has been hit the hardest, but with new safety measures being added all the time, some restaurants will be able to adapt and continue to profit.

People have always loved going to restaurants as a way to relax and enjoy an amazing meal. In the midst of all the craziness, restaurants are still able to deliver an experience to their guests that still resembles the original dining-out experience, with just a few more rules to keep everyone safe.