Utrecht, Netherlands – Heatwaves covered much of Europe this past summer, resulting in droughts and wildfires throughout the continent. Due to its heavily crowded urban centres and sparse rural areas, Europe has been forced to bear the brunt of the heat as a result of human caused climate change, leaving many farmers struggling.
"In a normal year, we would have had 250-300mm more rain than we did, this caused issues for my crops and livestock," said René Walvoort. Walvoort is a fourth generation dairy farmer from Woold, Netherlands. He explained the heatwaves have had, and will continue to have a drastic effect on his entire farm.
"On average, our cows produce between 25 and 27 litres of milk per day," said Walvoort, "this summer, the cows produced 4 litres less per day, that adds up."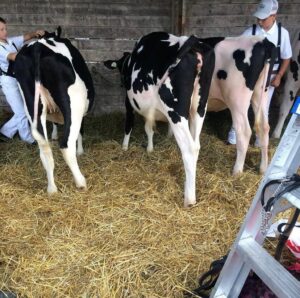 Bras Farm was opened by his great-grandparents in 1918 with a herd of only eight cows. Now, they have grown to a herd of 70 Fleckvieh cattle and 45 hectares of open air fields where they grow maize and high protein pasture hay.
Walvoort explains his cattle and milk production weren't the only affected area of his farm this summer. "The decreased rain meant we could only get one cut of hay, where we normally get three or five, that has almost eliminated our feed supply for the cows through until next season," he said.
Without the average production of milk and decreased crop yield, Walvoort's annual earnings have been lower, likely forcing him to buy feed for the cattle as his supply will run out. Come springtime, purchasing cow feed will be an expensive endeavor with the lower supply and higher demand throughout Europe.
A press release from COPA European Farms explains that the total production of cereal grain, such as wheat, has decreased by 4.4% this year as compared to 2021. As a result of lower yields, cereal grain production is estimated to decline from last year's 129.2 million tonnes, to 123.4 million tonnes. They indicate that this is merely the beginning of the decreased yields to come.
The heatwaves this summer arrived as the Dutch government proposed its plan to half the country's livestock in an attempt to limit agricultural pollution. The proposal, outlined in July, resulted in many dairy farmers protesting by blocking major roads throughout the country with tractors.
"I joined the road blockades five times this year. I have already built a more sustainable farming operation on the government's request," he said, "if I lose half my herd and half my production I might be forced to stop farming," Walvoort explains.
In 2016 Bras farms built a new barn, including solar panels, a milking robot, and an air filtration system as per the government's request.
"The modern barn has a ventilation system that filters out nitrogen and ammonia, keeping it from entering the air outside," he said, "I needed to include these systems to get the building permit," he continued.
As inflation raises the prices internationally, farming has only become more difficult. Walvoort says he recognises the importance of sustainability requirements for farmers as a major contributor to global climate change, yet he feels he must continue to fight for his livelihood as inflation rates continue to increase the cost of living.
"Producing at 60% to the normal rate is difficult, having to cut that in half again is impossible" he concluded.